Sales - Seniors
Paying for nursing home care
The Guide to Choosing a Nursing Home by the Department of Health & Human Services provides valuable information to those about to enter nursing homes or assisted living facilities.
Thursday, February 10th 2011, 2:11 PM EST
Updated:
Thursday, February 10th 2011, 4:02 PM EST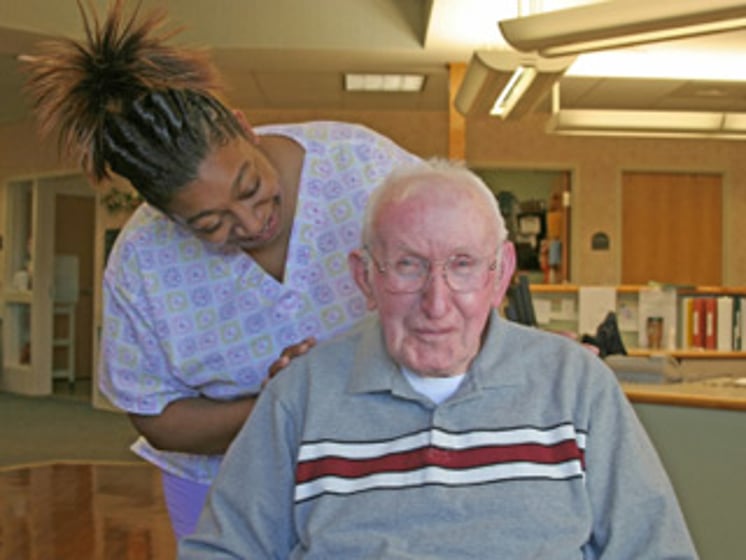 Nursing home care can be very expensive. There are many ways you can pay for nursing home care. For example, you can use your own money, you may be able to get help from your state, or you may use long-term care insurance.
Most people who enter nursing homes begin by paying for their care out of their own pocket. As you use your resources (like bank accounts, stocks, etc.) over a period of time, you may eventually become eligible for Medicaid.
Medicare generally doesn't cover nursing home care. Also, nursing home care isn't covered by many types of health insurance. Don't drop your health care coverage (including Medicare) if you are in a nursing home. Even if it doesn't cover nursing home care, you will need health coverage for hospital care, doctor services, or medical supplies while you are in the nursing home.
Remember, Medicare does cover skilled nursing facility care for a limited time after a 3-day qualifying hospital stay. For more information on Medicare coverage of skilled nursing facility care, get a free copy of the booklet "Medicare Coverage of Skilled Nursing Facility Care."
You can use your personal money and savings to pay for nursing home care. Some insurance companies let you use your life insurance policy to pay for long-term care. Ask your insurance agent how this works.
Important: Be sure to get help before using either of these options. There are important issues you need to understand.
Help From Your State—Medicaid
Medicaid pays for care for about 7 out of every 10 nursing home residents. Medicaid is a joint Federal and state program that pays for certain health services and nursing home care for older people with limited income and resources. If you qualify, you may be able to get help to pay for nursing home care, or other health care costs. If you qualify for both Medicare and Medicaid, most health care costs are covered. But remember, not all nursing homes accept Medicaid payment.
Check with the nursing home to see if they accept people with Medicaid, and if they have a Medicaid bed available. Who is eligible for Medicaid and what services are covered varies from state to state. Most often, eligibility is based on your income and personal resources. You may be eligible for Medicaid coverage in a nursing home even if you haven't qualified for other Medicaid services in the past.
Sometimes you won't be eligible until you have spent some of your personal resources on medical care. You may be moved to another room in the Medicaid-certified section of the nursing home when your care is paid by Medicaid. To get more information on Medicaid eligibility requirements in your state, call your State Medical Assistance (Medicaid) office.
Some important things to know about Medicaid
The state can't put a lien on your home if there is a reasonable chance you'll return home after getting nursing home care or if you have a spouse or dependents living there. This means they can't take, sell, or hold your property to recover benefits that are correctly paid for nursing home care while you are living in a nursing home in this circumstance.
In most cases, after a person who gets Medicaid nursing home benefits dies, the state must try to get whatever benefits it paid for that person back from their estate. However, they can't recover on a lien against the person's home if it is the residence of the person's spouse, sibling (who has an equity interest and was residing in the home at least one year prior to the nursing home admission), or a blind or disabled child or child under the age of 21 in the family.
Most people who are eligible for Medicaid have to reduce their assets first. There are rules about what is counted as an asset and what isn't when determining Medicaid eligibility. There are also rules that require states to allow married couples to protect a certain amount of assets and income when one of them is in an institution (like a nursing home) and one isn't.
A spouse who isn't in an institution may keep one half of the couples' joint assets, up to $109,560 (in 2009) as well as a monthly income allowance. For more information, call your State Medical Assistance (Medicaid) office. You can also call your local Area Agency on Aging to find out if your state has any legal services where you could get more information. You can also get free health insurance counseling from your State Health Insurance Assistance Program.
You can't give your assets away to family members or non-family members, rather than use your assets to pay for your nursing home care. If you give assets away within 5 years before the date you apply for Medicaid, or even after you apply, the gift may be treated as a transfer of assets for less than fair market value.
Transfers for less than fair market value may subject you to a penalty, and the penalty is that Medicaid won't pay for your nursing home care for a period of time. How long that period is depends on the value of the assets you gave away. There are limited exceptions to this, especially if you have a spouse, or a blind or disabled child. But as a general rule, giving away your assets can result on no payment for your nursing home care, possibly for many months or even years.
Note: Federal law protects spouses of nursing home residents from losing all of their income and assets to pay for nursing home care for their spouse. When one member of a couple enters a nursing home and applies for Medicaid, his or her eligibility is determined under what are called the "spousal impoverishment" rules.
Spousal impoverishment helps make sure that the spouse still at home will have the money needed to pay for living expenses by protecting a certain amount of the couple's resources, as well as at least a portion of the nursing home resident's income, for the use of the spouse who is still at home. For more information about this protection, call your State Medical Assistance (Medicaid) office.
To apply for Medicaid, call your State Medical Assistance (Medicaid) office. They can tell you if you qualify for the Medicaid nursing home benefit, or other programs, such as the Programs of All-Inclusive Care for the Elderly (PACE), or home and community-based waiver programs.
This type of private insurance policy can help pay for many types of long-term care, including both skilled and nonskilled (custodial) care. Long-term care insurance can vary widely. Some policies may cover only nursing home care. Others may include coverage for a whole range of services like adult day care, assisted living, medical equipment, and informal home care.
If you have long-term care insurance, check your policy or call the insurance company to find out if the care you need is covered. If you are shopping for long-term care insurance, find out which types of long-term care services and facilities the different policies cover. Also, check to see if your coverage could be limited because of a pre-existing condition. Make sure you buy from a reliable company that is licensed in your State.
For more information about long-term care insurance, get a copy of "A Shopper's Guide to Long-Term Care Insurance" from the National Association of Insurance Commissioners, by visiting www.naic.org/index_ltc_section.htm.
Federal employees, members of the Uniformed Services, retirees, their spouses, and other qualified relatives may be able to buy long-term care insurance at discounted group rates. For more information about long-term care insurance for Federal employees, visit www.opm.gov/insure/ltc.