Sales - Money
5 ways to focus on gratitude, not spending, this Thanksgiving
How to celebrate the holiday while reducing costs, debt and stress.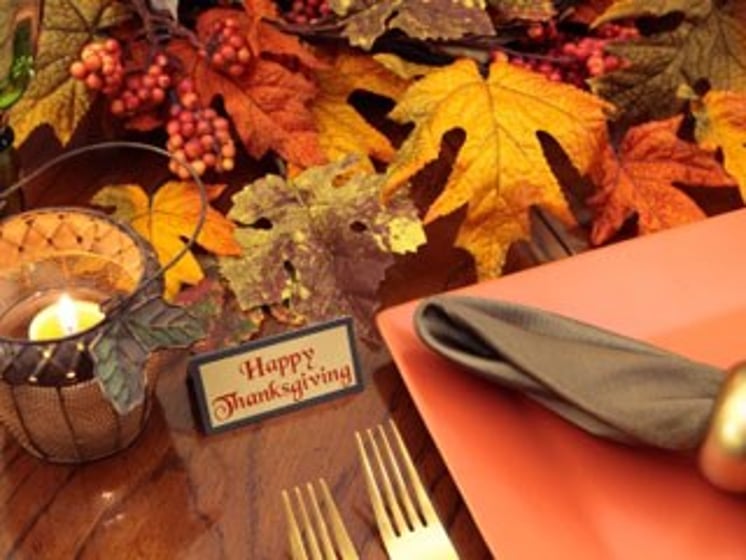 The Thanksgiving holiday is just around the corner. Millions of Americans will be busy cooking, baking, traveling and shopping. If you are among the many people who are planning to host friends and family this month, here are five ways to avoid going into debt on the holiday – without sacrificing the good times.
1) Make plans early. Now is the time to finalize Thanksgiving plans. You may be able to save money on your turkey by ordering early or watching for deals. Some stores, for instance, offer a free or very inexpensive turkey with a purchase of a certain dollar amount. Many stores discount Thanksgiving-menu items all month. If you have not yet made travel plans, you might be out of luck unless you are driving to your destination. If you are driving, gas prices remain reasonable, and websites such as GasBuddy.com can help you locate the lowest gas prices along your travel route. If you must find overnight lodging, check several sites to find the best deal, but do not delay.
2) Do not go overboard with the menu. Each region and each family has its Thanksgiving favorites. Your family might find it hard to do without macaroni and cheese, a sweet potato soufflé or three kinds of pie. If you are cooking on a budget, however, you might want to trim your options. Purchasing ingredients for the average Thanksgiving meal for 10 people costs nearly $70. You might be able to trim costs by choosing a turkey or ham instead of both, or asking guests to bring a side dish or dessert. The traditional pumpkin pie is more affordable than pecan pie, and homemade will be kinder to your budget than purchased items.
3) Spruce up décor on a dime. Television, magazines and the Internet are bursting with advertisements that suggest that your neighbors are redecorating in anticipation of Thanksgiving guests. Whether they are or not, you do not have to do so. Instead, add simple touches such as groups of candles or arrangements of autumn leaves. If your budget allows, you can refresh your home with small items to help guests feel especially welcome. Think along the lines of a new throw for the couch, a new doormat or a set of new napkins. Remember that the holidays are about togetherness, not possessions.
4) Plan your shopping. Thanksgiving has traditionally been a day for family, friends and togetherness. In the past few years, however, more stores began opening for holiday shopping on Thanksgiving. This year, the tide is turning, and more stores will close on Thanksgiving Day (see a list of stores here). If you are planning to shop on Black Friday, spend time after the Thanksgiving meal is over to create or review your holiday budget. Otherwise, shoppers can all too easily get caught up in the shopping frenzy and run the risk of overspending.
5) Find frugal fun. Some individuals can save money and have a wonderful holiday by going to someone else's home for Thanksgiving dinner. If you are among the many people who have a four-day weekend to celebrate the holiday, try to make time for a walk, a brunch or board-game get-together with friends or family members, or just enjoying watching (or playing) a football game with people you care about. All of these activities can make Thanksgiving memorable without padding your credit card balance.
Thanksgiving is a time to celebrate what you have, a time to relax and a time to enjoy a good dinner with friends and family. By keeping focus on these things, and planning ahead, you can avoid overspending and start the holiday season off in good shape.

Andrew Housser is a co-founder and CEO of Bills.com, a free one-stop online portal where consumers can educate themselves about personal finance issues and compare financial products and services. He also is co-CEO of Freedom Financial Network, LLC providing comprehensive consumer credit advocacy and debt relief services. Housser holds a Master of Business Administration degree from Stanford University and Bachelor of Arts degree from Dartmouth College.