Entertainment
From Dylan to Eddie Vedder, these are the best Tom Petty collaborations
Though late singer, songwriter, and guitar player Tom Petty was best known as a bandleader/solo artist, he was also known in the music world as one of the best-ever collaborators
Updated:
Wednesday, October 4th 2017, 9:30 AM EDT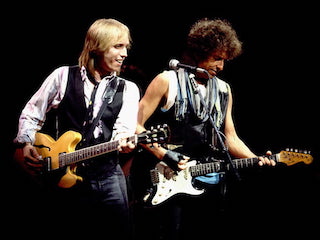 Though late singer, songwriter, and guitar player Tom Petty was best known as a bandleader/solo artist, he was also known in the music world as one of the best-ever collaborators. Whether performing with supergroups like the Traveling Wilburys, or partnering with a long list of other world-famous musicians for special live performances, Petty had a way of perfectly coalescing with some of the music world's greatest musical voices.  Here are some of the best Tom Petty collaborations of all time, from his iconic studio supergroup to on-stage collaborations with Bob Dylan, Eddie Vedder, and fellow late musical legend Prince.
Tom Petty, Bob Dylan, George Harrison, Jeff Lynne, and Roy Orbison founded the Traveling Wilburys supergroup in the late 1980s, a collaborating group of iconic musicians that was originally dreamed up by Harrison and Lynne while they were recording Harrison's Cloud Nine album. On End of the Line, Petty's musical voice is prominent in the mix, taking the lead vocal on each of the song's bridge sections while holding down the bassline.
Tom Petty joined longtime friend and Traveling Wilburys collaborator Bob Dylan on stage for this special version of Dylan's Knocking on Heaven's Door, providing beautiful background vocals and rhythm guitar on the extended live cut. "I though the world of Tom," said Dylan in a statement to Rolling Stone following Petty's death, "He was a great performer, full of the light, a friend, and I'll never forget him."
Petty hits the stage with a laundry list of superstars, including Prince and fellow Willbury Jeff Lynne, at the Rock and Roll Hall of Fame in 2004 for this now-iconic rendition of George Harrison's While My Guitar Gently Weeps. The performance was part of a posthumous induction ceremony for the late Harrison. Though the live take is best known for Prince's fiery guitar solo at the end, it's Petty's lead vocal that serves as the glue of the song, helping provide the perfect platform for Prince to shred over.
Grunge rock pioneer Eddie Vedder joined Tom Petty and The Heartbreakers on stage for this special version of Petty's early-'80s hit The Waiting, lending his gravelly baritone to the pop song. Petty plays 12 string guitar and provides backing vocals on the track, helping to bolster Vedder's stellar vocal performance.
Fleetwood Mac's Stevie Nicks and Petty's long string of collaborations began with Petty's early-'80s album Hard Promises, an album that includes hit single Insider, a slow-strumming track that joined both musicians' beautiful vocal tones in gorgeous harmony. Nicks and Petty would go on to perform this song and many others together throughout the remainder of Petty's lifetime, with Nicks even going so far as to call Petty her "favorite rock star" during their final performance together in July 2017.