Entertainment
Everything we know about 'Wonder Woman 2' so far
'Wonder Woman 2' might unfold in the U.S. during the Cold War
Updated:
Tuesday, October 10th 2017, 8:29 AM EDT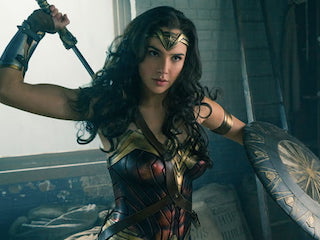 After three relatively underwhelming superhero movies, Warner Bros. Pictures finally struck gold in 2017's Wonder Woman, a critical and commercial hit for the studio's cinematic universe based on DC Comics properties. The film went on to break a long list of box-office records on its way to becoming one of the most successful superhero movies of all time, leaving little question about the possibility of Wonder Woman 2.
The Wonder Woman sequel was officially confirmed in July 2017, and director Patty Jenkins later agreed to return to direct the follow-up to her record-breaking film. With star Gal Gadot already locked in for another adventure as the iconic superheroine, Wonder Woman 2 is expected to bring the title character several decades forward in time and will feature a new cast of supporting characters.
The film is scheduled to hit theaters December 13, 2019, so here's everything we know so far about Wonder Woman 2 so far:
Before she was officially confirmed as the sequel's director, Jenkins discussed some of the ideas she hoped to bring to the second chapter of Wonder Woman's solo saga.
According to a May 2017 profile of Jenkins, the second film will likely have a more contemporary setting than the World War I backdrop of Wonder Woman. Later reports indicated that the Cold War era could be the time period for the second film, with the action unfolding in the U.S. during the height of international tensions, rather than returning to Europe.
Whatever the story does entail, it will have an impressive writing team scripting it. Geoff Johns, a veteran DC Comics writer and DC Films co-chairman, initially crafted the story for the sequel with Jenkins, and The Expendables screenwriter Dave Callaham was brought on in September 2017 to join the writing team.
Diana's in for the long run
Gadot will return as Wonder Woman for the sequel, but her continued presence as the face of the franchise wasn't always so certain.
The star of Wonder Woman was initially contracted for just three films in WB's superhero universe, and after appearing in Batman v Superman: Dawn of Justice, Wonder Woman, and Justice League, her deal was due to run out before Wonder Woman 2. At some point after the the release of Wonder Woman, however, Gadot's future with the franchise was reportedly extended beyond those three films. How far beyond those films she'll go remains uncertain at this point.
Breaking more than box-office records
When Jenkins made her return for Wonder Woman 2 official, she broke yet another record in a long list of accolades associated with the superhero's still-young film franchise.
The filmmaker's deal to direct, co-write, and produce the sequel to Wonder Woman reportedly makes her the highest-paid female director in Hollywood history. The contract was the product of an "unusually lengthy and tough negotiation," according to The Hollywood Reporter, with Jenkins pushing to earn as much as Man of Steel and Batman v Superman: Dawn of Justice director Zack Snyder. (Wonder Woman was both critically and commercially more successful than both of those films in U.S. theaters.)
Not only does Jenkins' deal reportedly earn her between $7 million and $9 million for her credited work on the film, it also gives her a relatively large percentage of the film's back-end earnings (aka the money it makes after covering its production and promotion costs).
In much the same way Wonder Woman effectively set a new standard for female-led and female-directed action movies, Jenkins' deal for Wonder Woman 2 goes a long way toward setting a new precedent for compensating female directors, who have traditionally earned less than their male counterparts in Hollywood.