Entertainment
We couldn't find Barb, but we did find this 'Stranger Things' merchandise
Check out deals on where you can geek out with Stranger Things merchandise
Updated:
Friday, October 27th 2017, 8:42 AM EDT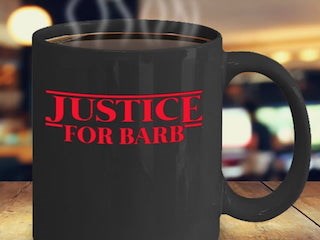 Stranger Things has quickly gained popularity since it's debut. With just the right amount of fantasy, intrigue, and '80s nostalgia, it's no surprise the internet latched on and refused to let go. Between fan theories, mobile games, and adorable little action figures, the Stranger Things brand is growing, and it's growing fast.
So with season 2 finally upon us, there is really only one question you need to ask yourself: Are you fully prepared? Whether you've been on the bandwagon since the beginning or are just now hopping on, this Stranger Things merchandise will help you geek out.
Posters are great, but they aren't nearly as effective as a good shirt. You can deck out your room with Stranger Things gear, but you will never get those knowing smiles and compliments from strangers at the grocery store if you aren't wearing it proudly.
You can pick up this Stranger Things T-Shirt for just  $9 on Amazon.
Looking to bring a little Stranger Things to the office? A graphic T-shirt may not conform to those business casual expectations, but this cute little Eggo-holdin' figurine is perfect for desks and cubicles. Eleven may still be trapped in the Upside Down, but that doesn't mean she can't hang out with you while you work.
An ugly sweater is a must-have for the holidays and what is more ugly than the Upside Down? Whether you are preparing for the holidays, or just love a good sweater to add to your collection, this piece of Stranger Things merchandise is perfect for you.
You can pick up the Upside Down ugly Christmas sweater for just $20 on Amazon.
Dustin has become a fan-favorite since his debut on Stranger Things. With his lack of front teeth and signature trucker hat, he quickly became somewhat of an internet celebrity. While you may not be willing to remove your teeth in dedication to the show, or Dustin, you can definitely get yourself this hat to wear while you binge.
You can pick up your very own copy of Dustin's hat for just $10 on Amazon.
Coffee is an essential part of every morning, but so is solemn reflection. Why not combine the two with the "Justice for Barb" mug. Just fill up your mug, take a sip, and think about how Barb was lost and forgotten in the Upside Down.
You can pick up this Stranger Things Mug for just $20 on Amazon after a 33 percent discount.
Looking for more great deals on tech and electronics? Check out our deals page or sign up for our deals newsletter for weekly updates.