Entertainment
'Stranger Things' season 3 is coming! Here's everything we know so far
Duffer brothers say 'Stranger Things' season 3 will jump in time
Updated:
Thursday, November 2nd 2017, 8:08 AM EDT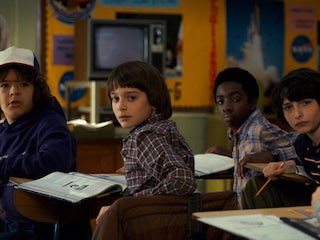 Stranger Things has managed to pull off a tough feat — living up to fans' high expectations for its sophomore season. After its first season arguably earned the show the title of Netflix's best original series, the bar was set high — especially after the streamer renewed it for two more seasons. Fortunately, the latest adventures of the Hawkins gang proved to be just as enthralling, keeping our hopes sky-high going into season 3.
The downside to our enthusiasm, however, is that it comes with a long wait. The show's co-creators, brothers Matt and Ross Duffer, only began working on season 3 in late October, and it took them over a year to get the second season out. The next set of episodes isn't expected until late 2018 at the absolute earliest, leaving us with unanswered questions to stew on for the next year, if not longer.
When Stranger Things returns, we'll have more mysterious dark forces and coming-of-age journeys to look forward to. Here is everything that has been revealed so far.
There will be season 2 spoilers ahead, so read at your own risk.
The Stranger Things kids are growing up, and the show has to keep pace. Like season 2, which jumped forward a year from the events of season 1, the show's third season will leap-frog more time. Executive producer Dan Cohen spoke to Collider and highlighted that the show's stars are teenagers now and they can't gloss over that.
"The passing of time in these kids' lives, and everyone's inner community, is part of the charm of the show, and [the Duffers] will continue to lean into that," he said.
The Duffer brothers have expressed similar sentiments and have been clear that season 3 will have to move forward. They told E! News that "there will be a time jump for sure."
Season 2 brought a victory for the Hawkins kids when Eleven (Millie Bobby Brown) was able to trap the Mind Flayer in the Upside Down. The problem, however, is that the monster hasn't been destroyed and it now has them on its radar. Based on a tease from the Duffer brothers, this could play a role in future seasons.
"They've shut the door on the Mind Flayer, but not only is it still there in the Upside Down, it's very much aware of the kids, and particularly Eleven," they told The Hollywood Reporter. "It had not encountered her and her powers until that final episode. Now, it knows that she's out there."
With the ominous note, we wouldn't be surprised to see the Mind Flayer back in season 3.
A scene-stealing actor gets a bigger role
Getting to know the family of Lucas Sinclair (Caleb McLaughlin) meant that we got to meet his hilarious younger sister, Erica (Priah Ferguson). She won us over with her quips about her older brother's nerdy habits and love life and, not surprisingly, she stole the hearts of the Duffer brothers and writers as well. It turns out that her role was actually supposed to be smaller than it was in season 2 but once they realized how great she was, they gave her more screen time.
"[Ferguson] was just a local hire we made in Atlanta," Matt Duffer told Yahoo. "Erica wasn't even supposed to be in [season 2] as much as she was. We fell in love with this girl."
Matt Duffer described Ferguson as "GIF-able" and said that the writers quickly realized they needed more of her. As such, "there will definitely be more Erica" in the upcoming season, according to Ross Duffer.
Beyond season 3, the show's future is somewhat murky. Although the Duffer brothers have spoken about concluding the series after its fourth season, their plan isn't set in stone. In an interview with The Hollywood Reporter, they shared that while they do have an idea of how they'll end the show, they aren't ready to say how many seasons it will take to get there.
"We think we know where we want it to end basically," Matt Duffer said, "we're not sure how long it's going to take to get there."
Popularity alone won't keep it going; they also require a "narrative reason." Not only that, they want to make sure they and the rest of the team are still excited about what they're doing.
That is interesting to hear, of course, but before we get ahead of ourselves, we'll return to eagerly awaiting season 3.