Entertainment
Everything we know about 'Ash vs. Evil Dead' season 3 so far
New teaser for 'Ash vs. Evil Dead' season 3 goes big on gore, family reunions
Updated:
Thursday, November 2nd 2017, 8:13 AM EDT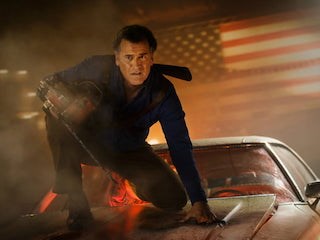 October is the most wonderful time of the year for horror fans, but they'll have to wait until after Valentine's Day for season 3 of Ash vs. Evil Dead. With the next season of the hit series premiering February 25, 2018, Starz released the first teaser for the upcoming third story arc in Ash Williams' ongoing battle against the demonic Deadites.
The third season of Ash vs. Evil Dead is set to bring back Bruce Campbell as the legendary Ashley J. Williams, a chainsaw-wielding war vet who's become the world's reluctant savior. Also returning for the ten-episode arc are series regulars Ray Santiago as Pablo Simon Bolivar, Dana DeLorenzo as Kelly Maxwell, and Lucy Lawless as the enigmatic, sinister Ruby.
Going full Papa Bear in first teaser
The first teaser for season 3 of Ash vs. Evil Dead was released on Halloween 2017 (appropriately enough) and features him dealing with the usual host of threats from gruesome, undead enemies out to swallow human souls — as well as a new addition to his life: His long-lost daughter, Brandy.
Played by Arielle Carver-O'Neill (House Husbands, Suburbs), Brandy Barr appears to offer a new target for Ash's enemies, but she also inspires a very uncommon trait — parental protectiveness — in the show's titular hero.
An old-school theme for season 3?
The people of Ash's hometown in Elk Grove, Michigan, finally appreciate his heroic actions after the events of the second season, but he will have more work to do fighting the Evil Dead in season 3. In new key art unveiled October 25, the show teases that "evil is about to get schooled."
School apparently plays a big role in the upcoming season, and the show's official Twitter account also explicitly stated we'll "go back to school" this season.
The third season of Ash vs Evil Dead has already been a long time coming. Starz renewed the series in October 2016, but as summer 2017 approached, it became increasingly clear that the third season would arrive later than expected. Campbell told Red Carpet Crash in August it could be pushed because the premium network wanted a "cleaner slot within the year" for the series; he suggested it could be "first quarter of 2018" before the series premiered. Since he ended up being right, we hope he was just as accurate in his prediction that Starz will want a fourth season.
The show's current order only extends through season 3, but we wouldn't be surprised to see another renewal in the next several months. In the past, Starz has been quick to order more of the series; for example, Ash vs Evil Dead was renewed for season 2 even before the show debuted.
Update: We added the first teaser for season 3.