Entertainment
'Black Panther' crushes the box office for record-breaking opening weekend
Marvel's Black Panther did more than just win the weekend box office with its massive debut
Updated:
Tuesday, February 20th 2018, 9:48 am EST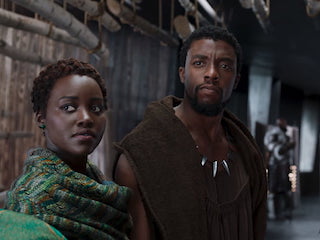 Marvel's Black Panther did more than just win the weekend box office with its massive debut. It broke a long list of records and shattered some longstanding Hollywood preconceptions, as well.
Director Ryan Coogler's superhero feature raked in approximately $201.7 million domestically according to early box-office estimates, and brought in almost $170 million more internationally, bringing its three-day opening weekend total to more than $371 million.
Among the many records set by the film, Black Panther had the biggest February opening weekend of all time, topping the $132.4 million earned by Deadpool in 2016. The film also became the highest-grossing movie of all time by a black director and featuring an almost entirely black cast after just one weekend, crushing the $214 million worldwide earned by 2015's Straight Outta Compton over the course of its entire theatrical run.
It wasn't just a commercial success, either. Black Panther earned a rare "A+" grade on CinemaScore, which polls ticket-buying audience members after the film. Critics also responded warmly to the adventures of African superhero T'Challa, giving the movie a 97 percent approval rating on Rotten Tomatoes.
| | | | | |
| --- | --- | --- | --- | --- |
| # | Title |  Weekend   |  U.S. Total  |  Worldwide Total  |
| 1. | Black Panther  | $201.7M | $201.7M | $371M |
| 2. | Peter Rabbit | $17.2M | $48.2M | $48.2M |
| 3. | Fifty Shades Freed  | $16.9M | $76.1M | $266.9M |
| 4. | Jumanji: Welcome to the Jungle  | $7.9M | $377.6M | $904.6M |
| 5. | The 15:17 to Paris | $7.6M | $25.4M | $36.1M |
| 6. | The Greatest Showman | $5.1M | $154.4M | $340.1M |
| 7. | Early Man | $3.1M | $3.1M | $3.1M |
| 8. | Maze Runner: The Death Cure | $2.5M | $54M | $259.2M |
| 9. | Winchester | $2.2M | $21.8M | $21.8M |
| 10. | Samson | $1.9M | $1.9M | $1.9M |
Beyond all of those numbers, Black Panther also cast some serious doubt on a longstanding Hollywood aversion to big-budget films featuring largely black casts and steeped in black culture. The industry has a long history of shying away from giving projects with black casts the sort of budgets that typical blockbusters carry, fearing that the film won't perform well outside the U.S.
The risk that Disney and Marvel were initially perceived to be taking with Black Pantherclearly paid off, though, and it remains to be seen whether the doors are finally thrown wide open for more diverse superhero, sci-fi, and fantasy fare.
As for the rest of the weekend's top 10 films, the only other new releases to make their debuts were the animated feature Early Man and the faith-based feature Samson. The former film, a stop-motion feature from Aardman Animations, debuted lower than its studio predecessor, Shaun of the Sheep. The Biblical-themed Samson also came in under pundits' expectations. Early Man performed relatively well with critics and audiences, though, so it might get a bump after the initial Black Panther madness dies down a bit.
This upcoming week will almost certainly continue to be dominated by Black Panther, but it does feature some noteworthy new releases. The "R"-rated comedy Game Night features Jason Bateman and Rachel McAdams as a couple whose regular get-together with friends take a deadly turn, while the dark sci-fi film Annihilation brings Jeff VanderMeer's best-selling novel of the same name to the screen via Oscar-nominated Ex Machina director Alex Garland.