1 year anniversary: CNE hospital staff kneel in honor of Floyd's death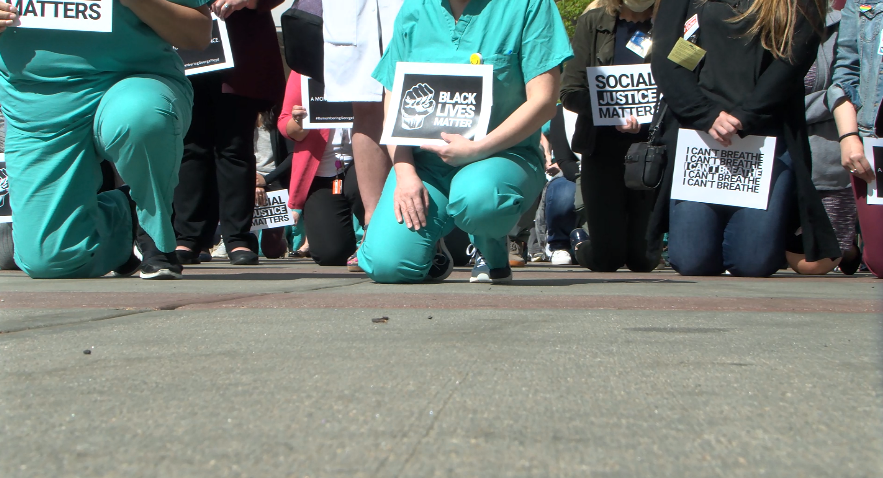 PROVIDENCE, R.I. (WLNE) – In honor of the one year anniversary of George Floyd's death, dozens of doctors and nurses at Care New England knelt in silence for 9 minutes and 29 seconds, the amount of time Floyd was pinned under Minneapolis Officer Derek Chauvin's knee.
Silence filled the parking lot as hospital staff held signs that read  "a moment of silence", "I can't breathe", and "black lives matter".
"I did see some of our staff members were tearing up and having a difficult time," Shannon Sullivan, President and CFO of Women & Infant's Hospital said. "I think other people were just contemplative about what it meant. For me personally, I was thinking about just how long those 9 minutes and 29 seconds are and how much work we've done and how much more we need to do."
Sullivan says the protest is one of the many ways they're working to create a more diverse and inclusive hospital system.
"We learned we didn't have enough interpreters on site, so we've been adding interpreters to be able to communicate with our patients in a way that they would like to be communicated with," Sullivan said. "We've also spent a lot of time looking at how patients view us when they come into the hospital. What does our lobby look like? What do our television screens show?"
Dr. Dionne Poulton, Vice President and Chief Diversity Officer at Care New England says moments like this speak louder than words and give her hope that better days are coming.
"I'm still optimistic," Dr. Poulton said. "I think people are more awakened to what's been happening and experiences of black and brown people just because of the color of their skin and the conversations are deeper. I think when there's silence there's an opportunity for self-reflection and to think about how each of us individually can do something to make our lives better and makes lives better for other people."