100-year-elm at John Brown House chopped down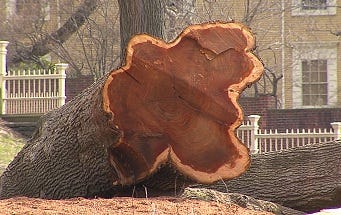 Dee DeQuattro
The age-old elm tree that stood in front of the John Brown House in Providence has been chopped down.
The 100-year-old tree was removed by Mike's Tree Service on Monday because it suffered from a canker, a lethal tree disease. Originally it was thought that the tree had Dutch elm disease.
The Rhode Island Historical Society is teaming up with the Rhode Island School of Design, the Ocean Woodturners, Cape Cod Woodturners, and Dale Broholm to design commemorative pieces from the wood to celebrate the life of the tree.
The tree was planted when the Rhode Island State House first opened. It saw times of affluence in the city of Providence when RI was the wealthiest state in the country. It stood through the historic hurricane of 1938 and weathered the blizzard of 1978. It stood through Tropical Storm Irene, Super Storm Sandy, and its final winter storm, the 2013 Blizzard.