Raimondo highlights "economic suffering" and massive deficit in Wednesday briefing
The governor also addressed contact tracing and the recent unrest as RIDOH reports 107 new cases and 10 new deaths for the state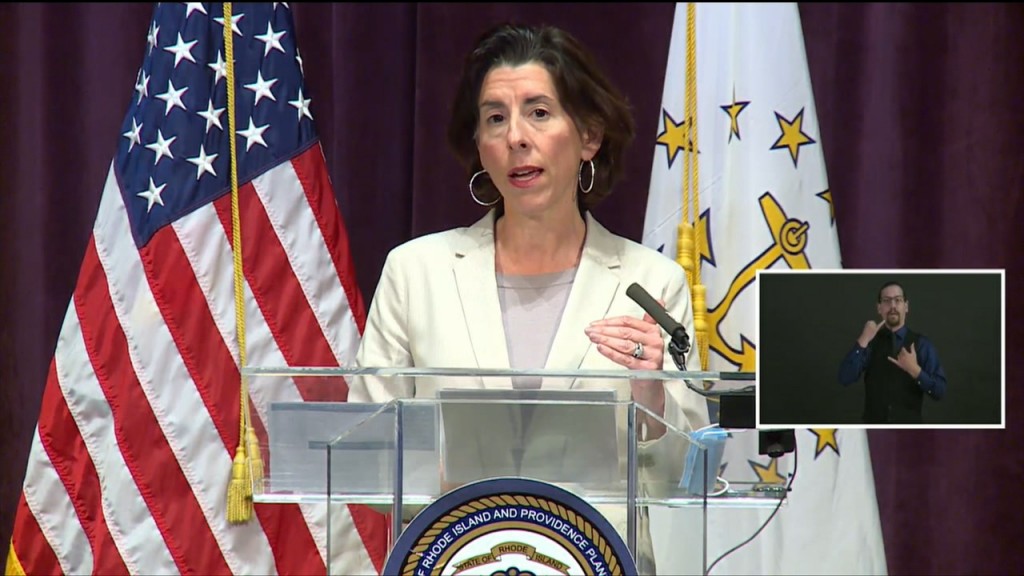 PROVIDENCE,  R.I. (WLNE) – Gov. Gina Raimondo said on Wednesday that without additional federal aid, layoffs and furloughs were inevitable as the faces an $800 million deficit in the wake of the coronavirus crisis.
Calling the state's economic suffering "bigger than anything we've ever seen before," the governor said there will undoubtedly be changes to the types and amount of services state government would be able to offer in the near future.
Even as Raimondo said Congress was likely to pass another stimulus bill, she called for state employees to take advantage of a federal work share program that could spare some departments from laying off employees while saving taxpayers "millions".
The funding for the program comes from the federal CARES Act, and would require a voluntary participation of state workers, Raimondo said.
Turning to the subject of contact tracing, the governor attempted lay to rest misgivings residents may have about using the Crush COVID phone app that the state rolled out last month. Raimondo said 45,000 Rhode Islanders had downloaded the app so far, but added that she wants to see a greater number.
"Privacy and data protection is number one goal," the governor said, adding that the app does not collect information on contacts stored in a phone, or personal information such as a user's name, address, or birth date.
Raimondo stressed that the app's location diary feature is voluntary, and users can opt to turn it off or on at any time. Users that end up testing positive for the virus can also decide if they want to submit that information to the Rhode Island Department of Health directly.
Individuals that test positive are contacted by RIDOH, who conduct an extensive interview on where and with whom the individual has been, a process Raimondo described as "painstaking." She said over 100 RIDOH employees, including members of the National Guard, are involved in the contact tracing program.
Using the app, and maintaining a contact diary, are another adjustment residents need to get used to, the governor said, comparing it to wearing masks and social distancing.
"I promise you, this is going to save lives," Raimondo said.
Addressing the subject of protests, Raimondo said she did have concern that large gatherings could lead to an outbreak if participants did not wear masks or practice social distancing.
Providence, the site of a large protest on Saturday in response to the death of George Floyd by a white police officer in Minneapolis, is expecting another one on Friday.
Raimondo said RIDOH employees and volunteers will be on hand at Friday's event, in an effort to provide information on testing and contact tracing to protesters, along with handing out masks.
Saying that protesters have a "need and obligation to speak out" in the face of racial injustice, the governor attempted to stress the importance of following health guidelines, especially if protesters have older or vulnerable family members at home.
The governor drew a stark contrast between Saturday's peaceful event, and the riot and looting of Monday night, as businesses that had been ransacked were still trying to deal with the wreckage on Wednesday.
Raimondo described the sight of businesses with windows smashed, their COVID-19 plans visible on the walls behind it, as "heartbreaking." She said many of these downtown businesses had only recently opened, some on the same day of the melee.
Acknowledging that many in the state were still gripped with fear for their safety, Raimondo said state and local police were using "every tool at our disposal for constant surveillance around the clock" to ensure there would not be a repeat of Monday's chaos.
The state would continue to receive full federal funding for the use of the National Guard until August 21, Raimondo said, and the guard would continue to support efforts by state and local police.
Earlier Wednesday, RIDOH released updated data on the state's coronavirus infections, with 107 new positive cases and 10 more deaths announced.
There have been 15,236 positive cases of the virus to date, with 742 virus related deaths.
There are 189 people in the hospital currently, with 44 in the Intensive Care Unit and 30 reported as needing a ventilator.
©WLNE-TV/ABC 6 2020