$10M FOR JUDGESHIP: Lombardi Confirms Senate Shakedown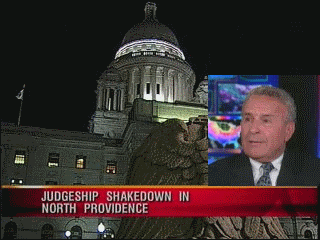 While taping this week's edition of ABC6 News on the Record, ABC6 Political Analyst Vincent "Buddy" Cianci asked North Providence Mayor Charles Lombardi to confirm some rumors he'd been hearing, about some tax funds North Providence lost out on, as a result of what Cianci called a "Senate shakedown."
As the discussion continued, Lombardi confirmed that an unknown person in the State Senate had approached him, looking to guarantee a municipal judgeship for former Senate President Joseph Montalbano, in exchange for Senate approval for a desperately-needed supplemental tax increase for the town.
Lombardi refused the deal.
Here's a look at this week's ABC6 News on the Record, which airs Sunday at 7:30AM on ABC6.
SOUND OFF!: What do you think of this reported shakedown? Comment below or email us at news@abc6.com…