11th Earthquake Hits Plainville, CT in a week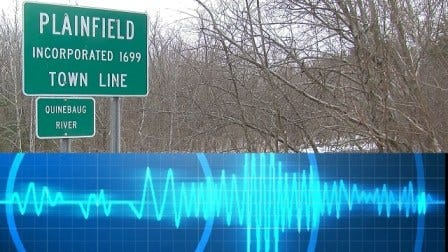 By Matt Blanchette
twitter: @mattblanchette
Scientists are calling it an earthquake swarm. And although they 're small in size they're very concerning for residents.
Earthquakes are not something people in New England expect. "We don't have to worry about shootings or traffic but now we have to worry about earthquakes. It's mind blowing really," Planfield resident Lynn Scovel said. She lives in the quiet, idyllic Connecticut town.
She and her neighbors are now becoming accustomed to waking up to earthquakes… 11 of them in the past week.
"it feels like and sounds like there is an explosion in our basement. Like someone is down there. Everything is exploding," said said.
Kevin White lives nearby: "It is pretty intense and it scared my daughter. She woke up out of bed and came into bed with us," he said.
"Oh like loud loud. Shakes the floor in the house," Courtney White said.
Because residents have so many questions about these earthquakes town officials are having a special meeting here at the high school Friday night at 630. Scientists and emergency planning personnel will be on hand to answer those questions.
"There is definitely a sincere fear in people because it is the unknown," Plainfield Police Chief Michael Surprenant said. "We can't answer questions. People do not like the unknown. We cannot predict when it is going to happen again."
Dr. John Ebel of the Weston Observatory at Boston College is tracking each quake and while these are nothing out of the ordinary a bigger quake is possible.
"But if that happens tomorrow of 500 years from now that wouldn't surprise me," Ebel said.
"I fear a big one. I know there is something else coming. They aren't happening for nothing," White said.
Whether its fear or caution, Scovel isnt taking any chances with her home.
"I called up my insurance agent and they were like no. So I said how much is it. They said $109 dollars. So i said that's not that bad."