12-year-old who created Boston Strong bands to start non-profit with brother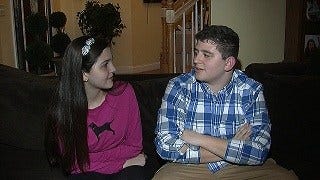 By: Samantha Lavien
Slavien@abc6.com
Twitter: @samanthalavien
The 12-year-old girl responsible for creating the Boston Strong wristbands worn by thousands of people across the world is starting up a new venture, this time to help people any time tragedy strikes.
ABC 6 News first introduced you to Lindsey Arruda last month. The Somerset girl was the mastermind behind the bracelets that raised $11,000 for the One Fund. Now, Lindsey is teaming up with her 14- year-old brother Casey to create a non-profit.
"It's called We Stand Strong and it's when we make bracelets for communities that have suffered tragedies or natural disasters. It has the state colors on it, then it says the state name and strong," said Lindsey Arruda.
The 6th grader says the idea came to her while she was in D.C. for one of the many awards she has won in recent months for creating the bands.
"After Washington I was really inspired by the other people and my brother Casey and I wanted to do something to help even more," said Lindsey Arruda.
"After listening to her ideas I kind of thought how great the idea would be to help out these people in need," said Casey Arruda.
The duo will order the bracelets when a tragedy strikes. After they receive the bands they will work from their home to package and ship them out. 100% of the proceeds will go to help those in need.
The plan is for the non-profit to be up and running by this Summer.
The family is finishing up the final planning process now.
Each bracelet will be sold for $5.
(C) WLNE/TV 2014