13 people charged in drug trafficking conspiracy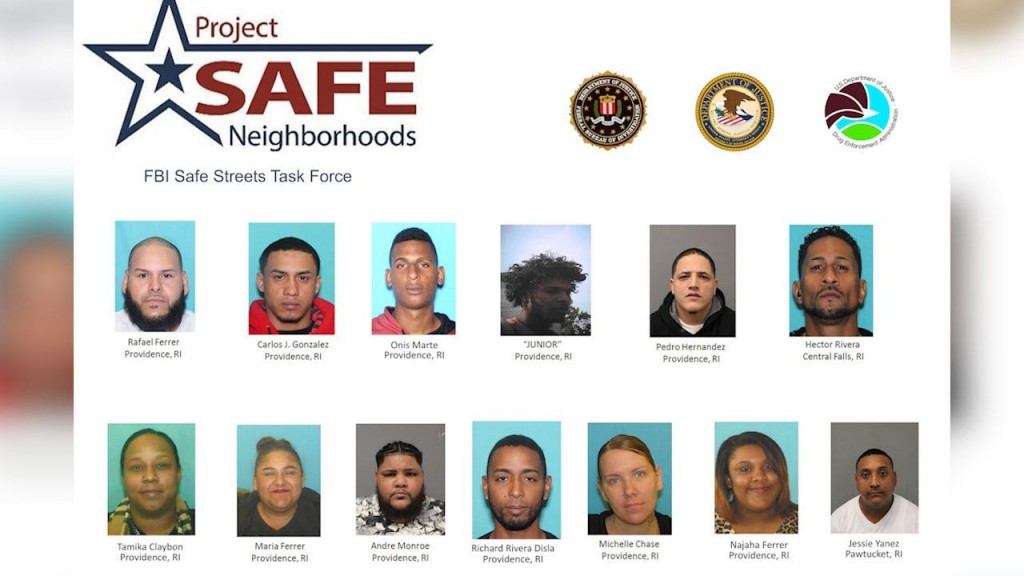 PROVIDENCE, R.I. (WLNE) – There are thirteen people facing charges in an alleged drug trafficking conspiracy in the Greater Providence area.
The U.S. Attorney's office, along with DEA and FBI officials announced the charges Tuesday afternoon, after busting the drug ring early that morning.
Of the individuals charged, all but one have had previous run-ins with the law including drug and violent crime charges.
The bust came after a months-long Project Safe Neighborhoods investigation which began in June. In total, authorities were able to get more than 1000 grams of Fentanyl off the streets, potentially saving hundreds of lives.
The investigation was dubbed 'Operation Bloodline' because many of the accused are related.
"Those arrested today have one goal in common, and that is to make money," said DEA Special Agent in Charge Brian Boyle. "They have no regard for the safety and well–being of those they distribute these drugs to."
When authorities started surveilling the drug trafficking ring, they learned the alleged supplier and head of the operation was Rafael Ferrer.
Officers with Project Safe Neighborhoods bought drugs from Ferrer and his friends and family 29 times.
"We believe Ferrer is responsible for leading a family-based drug trafficking operation out of multiple distribution points in Providence," said FBI Special Agent in Charge Joe Bonavolonta. " In fact, the first time we bought Fentanyl from him was the very same week he got out of prison. He clearly did not waste any time getting back to business."
Officials also allege that some were selling Fentanyl, but passing it off as prescription Oxycodone.
They called it "Playing Russian roulette with people's lives," and just one of the many ways the group was cashing in on the state's opioid crisis.
"It's unfortunate these dealers, who allegedly trafficked these deadly drugs, don't see the destruction left in their wake," said Bonavolonta. "They only see the money they make from pushing and selling."
In addition to Fentanyl, authorities also seized Heroin, Cocaine, Crack Cocaine, and three illegal guns. They estimate they got $175,000 in drugs off the streets.
Eleven people are in custody so far and officials expect them held without bail.
©WLNE-TV/ABC6 2019