14 Three-Pointers Leading Army Past Bryant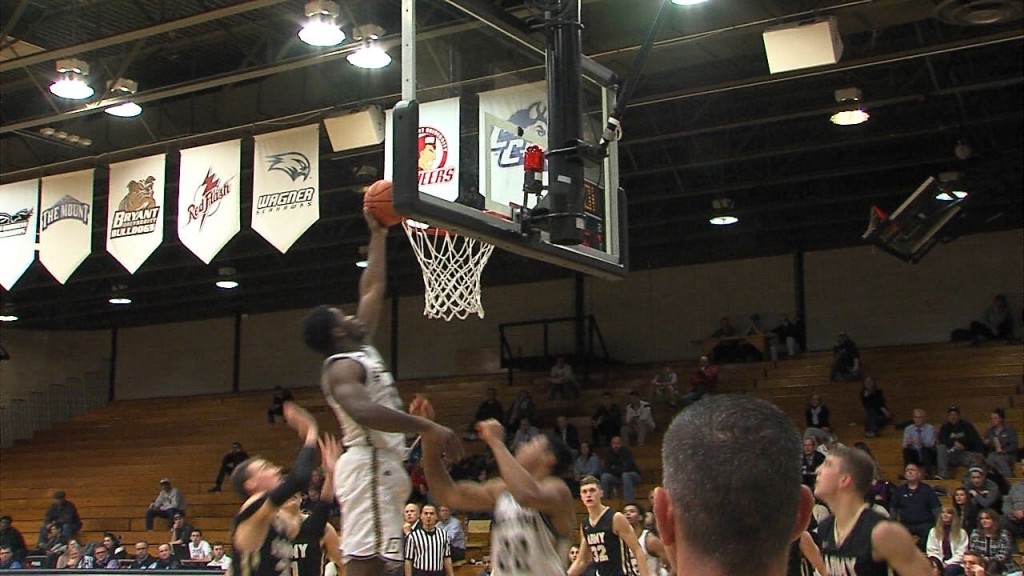 Bryant University Press Release
SMITHFIELD, R.I. – Despite double-doubles from forwards Dan Garvin (Bethel, Conn.) and Marcel Pettway (North Providence, R.I.), the Bryant University men's basketball team could not overcome 14 Army West Point threes, falling to the Black Knights, 77-55, Tuesday night.
Freshman guard Nisre Zouzoua (Brockton, Mass.) led the Bulldogs (2-8) with 17 points on 5-of-13 shooting while providing the only Black and Gold trey of the night. The double-doubles from Garvin and Pettway (13p, 10r each) were the second this season for each, and it marked the first time this year that Bryant has seen multiple double-double performers in the same game.
Senior Cadet (7-2) Tanner Plomb finished with a game-best 26 points on 50 percent shooting from both the floor (10-20) and from long range (6-12). Classmate Kyle Wilson netted 14 points, while seniors Kevin Ferguson, Dylan Cox (7 assists) and Larry Toomer (8 rebounds) chipped in eight points apiece.
The Black and Gold struggled to find the hoop for much of the game, going 19-for-55 from the floor (34.5 percent) and not converting an opening-frame three for a second-straight game. The Black Knights hoisted 38 treys in the contest, shooting over 35 percent from beyond the arc and 47 percent from the floor (31-66). Army would outmuscle the Bulldogs on the glass, 43-37, despite a game-best 10 from Garvin and Pettway.
Army opened the outing with a 7-0 run over the initial 1:21. Bryant's first field goal would not come until the 15:48 mark on a layup from Garvin. It was the first of consecutive buckets for the junior bigman, capping off an 8-0 Bulldog run to give the hosts their first and only lead of the game, 8-7, with 13:47 to play.
The Black Knights were fueled by a 19-1 stretch spanning five minutes in the first half to take a commanding 26-9 lead at the 8:42 mark.
Trailing, 32-15, with six minutes to go, a Pettway layup would ignite a 9-0 Bulldog run stretching just over two minutes to make it 35-26, trimming the deficit to single digits for the first time since the 10:37 mark. The Bulldogs would close out the frame on a 20-12 run to pull within nine, 38-29, at the break.
After four quick Bryant points cut the home side's deficit to just five, 38-33, to open second-half action, the Black Knights would respond quickly, taking a 10-point edge with 16:31 remaining on a Wilson triple.
Although Bryant would shave the deficit to single digits twice more in the stanza, it would get no closer than five, eventually falling behind by as many as 22 in the 77-55 final.
The Black and Gold will hit the road for their next contest but won't be traveling far, as they play No. 15/18 Providence College in the capital city on Saturday at 12:00 p.m. The game can be seen live on Fox Sports 1 and heard on WOON 1240AM