100+ Rhode Islanders canvassed for Sanders in N.H.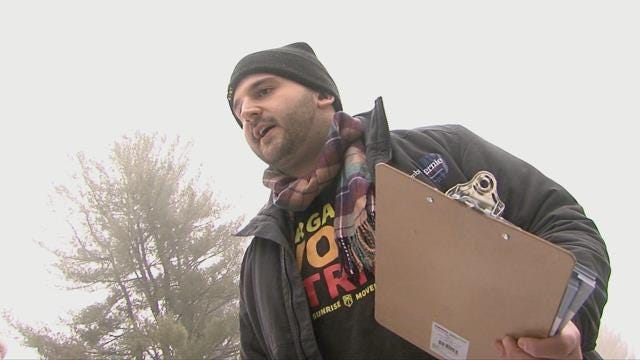 MANCHESTER, N.H. (WLNE) – Sen. Bernie Sanders won New Hampshire's primary Tuesday after getting the most votes in Iowa a week ago, securing for himself a frontrunner's slot under any traditional understanding of presidential races.
Sanders addressed a cheering crowd in New Hampshire on Tuesday night and proudly touted his diverse support in building a coalition aimed at taking progressive approaches to health care, resolving student debt and curbing climate change to the White House.
"The reason that we are going to win is that we are putting together an unprecedented multigenerational, multiracial political movement," he said.
In the audience at Sanders' rally were several Rhode Islanders who went up to the Granite State to canvass for the senator.
"I was so excited he decided to run again," said Woonsocket resident Alex Kithes.
Kithes volunteered to go door to door in N.H. to canvass for Sanders.
"New Hampshire is close. New Hampshire is about a two hour drive away from Woonsocket. So, it felt so natural for me to come up Saturday and then again today," said Kithes.
He said he supports Sanders because the senator's message resonates with life in Woonsocket.
"As Rhode Islanders, and specifically the very working class city of Woonsocket, the stuff Bernie is talking about is going to be enormously beneficial to all of us," said Kithes.
Kithes was part of a busload of volunteers from Rhode Island that went to New Hampshire on Tuesday. The group's organizer projects 150 Rhode Islanders traveled to N.H. over the weekend to canvass.
"We're not going to stop. Super Tuesday is coming up. I urge everyone who came up to New Hampshire– Massachusetts is a much easier ride," said Providence resident Nick Frayn.
The group will begin canvassing in Fall River and New Bedford on Saturday.