Few arrests during 'Free Speech' counterprotests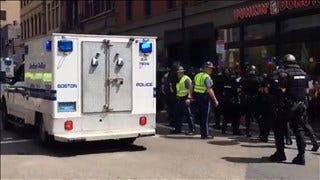 By: News Staff
Email: news@abc6.com
Twitter: @ABC6
BOSTON (WLNE) — Massachusetts State Police (MSP) announced Saturday's operations at the "Free Speech" counterprotests a success, with few arrests amongst roughly 15,000 people.
ABC News reports 33 arrests in total Saturday. MSP said of the 17 arrests they helped with, most were for disorderly conduct.
MSP accompanied Boston Police throughout the day with "numerous" patrol troopers, as well as Air Wing, tactical and K9 units. MSP also utilized "public order platoons," what they called "troopers specially trained in protest response and crowd control."
"The majority of demonstrators did not engage in criminal activity," state troopers said in a press release Saturday evening. "A minority of counterprotesters who exhibited extreme hostility were nonetheless allowed to express their views."
The march to the Boston Common to meet less than 100 "Free Speech" rally-goers from the Reggie Lewis Center in Roxbury kicked off before 11 a.m. Around 2 p.m., state police say about 200 counterprotesters gathering behind the State House, "screaming anti-police slurs and chants." Police set up a perimeter. After about 20 minutes of shouting and 1 arrest, the group dispersed.
Most of the large-scale activity wrapped up by 3 p.m.
©WLNE-TV / ABC6 2017