19-year-old says 2 men tried to lure her into their car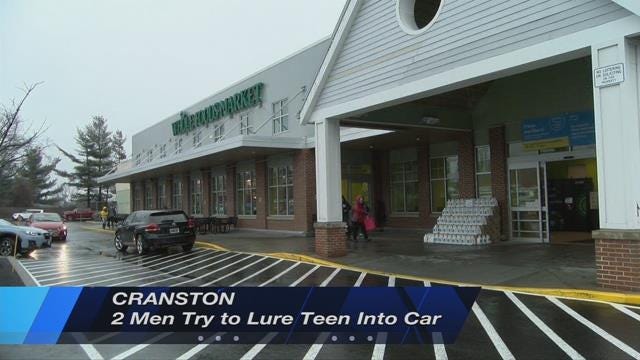 CRANSTON, R.I. (WLNE): While Madeline Rossi, 19, was out collecting carts during her shift at the Whole Foods in Cranston she said 2 men in a car came up to her and tried to lure her in.
"I had one cart in this hand and another in this hand," Rossi said. "I was just walking back like I do every day and they pulled up behind me really slow. Then they pulled over to the side of me. That's when he pulled down his window and was like come in let's go for a ride."
Rossi said there was a man in the driver's seat and another man in the back seat.
"Eventually he stepped out of the car while it was still running," Rossi said. "He didn't put it in park or anything. Just stepped out and started pulling on the cart that I had in one of my hands."
That is when Rossi said her fight or flight kicked in and she ran in the Whole Foods building. She told her boss and they called Cranston Police who showed up immediately.
Traci Rossi, her mother, said there are two predators out there now and she hopes to raise awareness and for parents to have conversations with their children.
"My daughter is one of however many and she won't be the last one they try to take," Traci Rossi said.
The Cranston Police Chief said there were no surveillance cameras in the parking lot, but they are taking this seriously and investigating.
The car is described as a dark grey Honda Civic with a Rhode island plate. The man in the driver's seat is described as Spanish, with a crew cut, in his mid 40's.
Detective Lee Sohn was assigned to this case, and if anyone has any information or is aware of any previous incidents to contact him at 401-477-5147.
©WLNE-TV/ABC6 2020