2 arrested after speeding 91 mph over Newport Bridge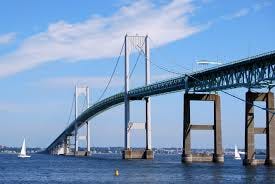 By Alana Cerrone
Rhode Island State Police arrested two men after they were racing over the Newport Bridge at 91 MPH.
Troopers stopped Marco Basile, 21, of East Longmeadow, Mass., and Curtis Lussier, 24, of Longmeadow, Mass., after they were racing side by side going east over the bridge around 1:50 Saturday morning.
Both were arrested for reckless driving/drag racing due to the dangerous speed and wet road conditions. They were held overnight and released after posting $2,000 bail with surety.
The speed limit on the Newport Bridge is 40 MPH.
(C) WLNE-TV 2014