2 firefighters injured, close to a dozen displaced in Fall River fire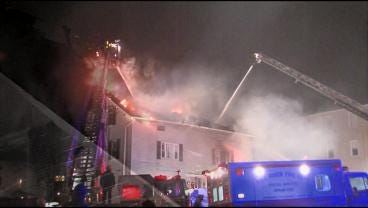 Dee DeQuattro
ddequattro@abc6.com
Two fire fighters were injured and close to a dozen people are displaced after an intense fire broke out in a 3 story apartment building in Fall River early Thursday morning.
The firefighters were inside the burning when they fell and were burned by the flames. After escaping the burning building the firefighters were transported to Rhode Island Hospital; one suffering arm burns, the other with a back injury.
Eleven residents, including seven adults and four children, escaped the blaze. The individuals are currently displaced and are being assisted by the Red Cross.