2 officers dead after fake 911 call leads to believed ambush, police say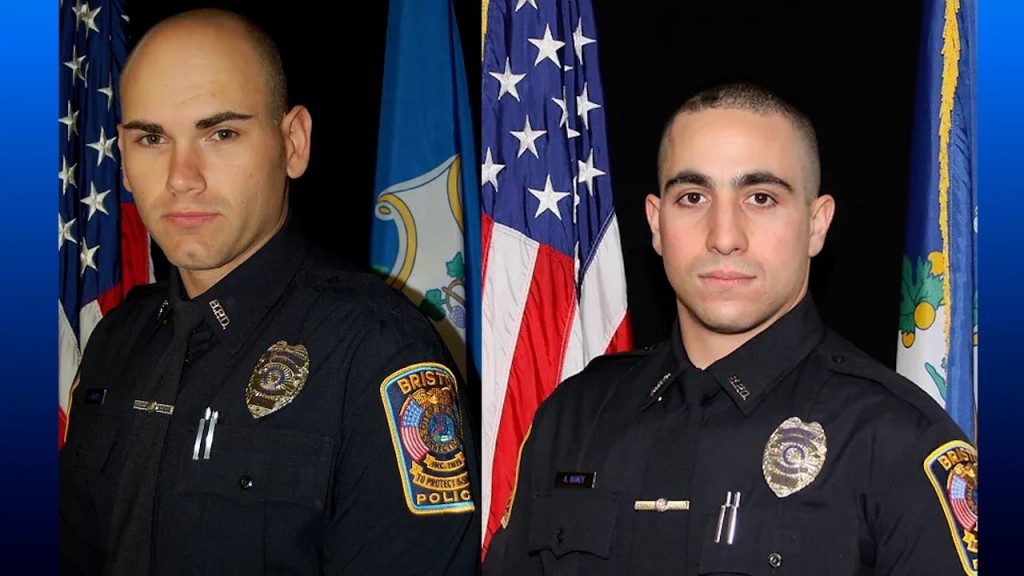 BRISTOL, Conn. (WLNE) — Two police officers were shot and killed overnight in what police believe was an ambush following a staged 911 call for help.
Connecticut State Police said three officers responded just before 10:30 p.m. Wednesday to an emergency call of a domestic violence incident at a home in the area of Redstone Hill Road.
According to police, the incident may have started earlier in the evening when police responded to a disorderly patron at a bar and issued a summons.
That person returned to his home, armed himself with an AR-15 style rifle and made the fake 911 call as a "deliberate act to lure law enforcement to the scene," police said.
During a press conference Thursday, the Bristol Police Department identified Sgt. Dustin Demonte, 35, and Officer Alex Hamzy, 34, as the two officers killed. Demonte had a child on the way, police said.
"Our men and women of the Bristol Police Department are privileged and honored to serve on the front lines protecting and serving the community of Bristol. and that's what these heroes did last night. They answered the call of duty and responded without hesitation. And that's what they did every night before that. And that's what all our do and will continue to do day after day," Bristol Police Chief, Brian Gould, said.
Officer Alec Iurato was shot and is undergoing surgery for severe gunshot wounds.
"Today, our hearts are broken, we're united in immeasurable grief for those hero officers, for their families, their friends. And for all of our law enforcement personnel. We pray for them," said Bristol Mayor Jeff Caggiano.
State police said the suspected shooter, identified as 35-year-old Nicholas Brutcher, was also killed. The shooter's brother, 32-year-old Nathan Brutcher, was hurt in the gunfire and brought to a hospital.
On Twitter, Connecticut Gov. Ned Lamont wrote, "I am directing flags in Connecticut lowered to half-staff effective immediately in honor of two Bristol police officers who were killed in the line of duty."
A procession brought the two officers from Bristol Hospital to the Medical Examiner's office in Farmington.
No further information was immediately released.