2010 Floods: Warwick Mall Interior Destroyed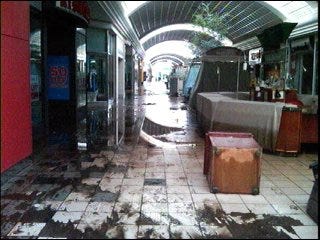 The Warwick Mall is a popular shopping destination for many in Rhode Island, so even people who hadn't seen damage done to their homes were interested in the damage the floods had done to the mall.
The aerial photos told one story – the parking lots and walkways were flooded, the lone security guard inside at the time of the floods had to be rescued by boat.
A photo that made it's way around the Internet, the first to show interior damage, told another. Water and debris had been knee-high, and each and every store inside the mall was damaged. It would kick-off a massive renovation and restoration which now, a year later, is close to completion.
ABC6 Anchor Mark Curtis talked to the mall's co-owner, Aram Garabedian, in this report from April 1st, 2010.