Another mild week coming up and we'll challenge record highs again late in the week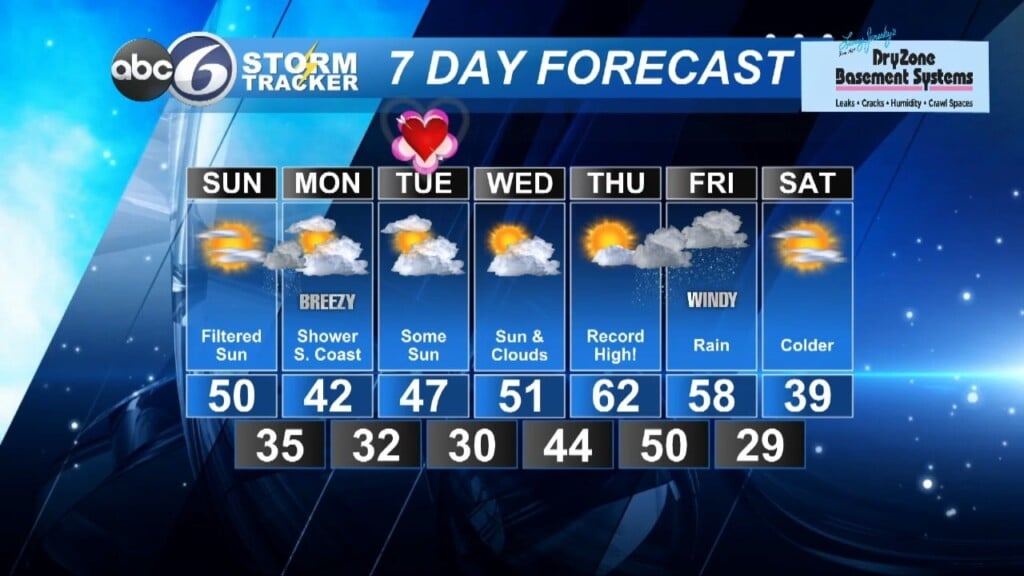 From ABC6 Meteorologist Bill Gile
bgile@abc6.com
This afternoon will be a fairly pleasant day with filtered sunshine and temperatures a bit higher than yesterday as they approach 50°. A decent sized ocean storm will stay well south of the region as it passes by overnight. As it does so the south coast and the Cape should get in on a little bit of rain shower activity, but that's about it.
High pressure then builds across the east coast for early next week allowing for a nice Valentine's Day and then becomes more of a summer-like 'Bermuda' High that draws up more warm air from the south for the second half of the week. As it does so, more record high temperatures look to be challenged Thursday and/or Friday with no significant storms in sight.
THIS AFTERNOON: filtered sunshine through increasing high level clouds from the south. Highs 47-50. Winds SW 5-10MPH.
TONIGHT: mainly cloudy with a threat of a rain shower along the south coast. Lows in the mid 30s.
MONDAY: breezy, a good deal of clouds. Highs in the mid 40s.
TUESDAY: a blend of sun and clouds, milder. Highs in the upper 40s.
WEDNESDAY: more sun than clouds with highs in the lows 50s.
THURSDAY: Main sunny and perhaps setting a near record high. Right now, I'm looking for a high near 62° that would beat the current record of 60° (1910)!
ABC6 Meteorologist Bill Gile
bgile@abc6.com