3 arrested on drug charges after woman found dead in North Providence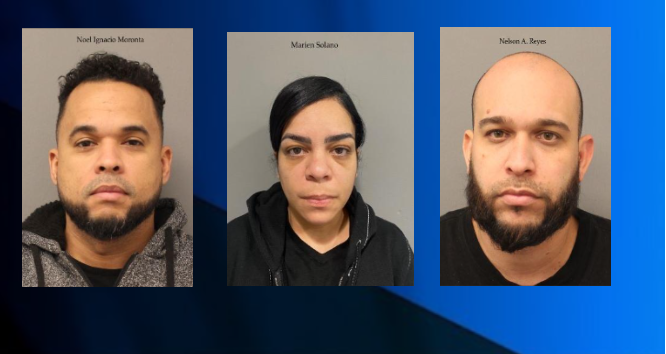 PROVIDENCE, R.I. (WLNE) — Rhode Island State Police said they arrested three people on charges of drug trafficking and failing to report a death on Wednesday.
Authorities said a month-long investigation lead to three search warrants being executed at three separate residences in North Providence, Providence and Johnston.
According to court documents, during the search of the North Providence property, police found a dead woman in the house.
Police also located a large heroin and fentanyl processing operation in the home.
The following items were seized from the North Providence residence:
Kilogram presses, stamps and molds
Digital scales and packaging materials for redistribution
908 grams of heroin
229 grams of fentanyl
$82,550 in cash
Police determined Noel Ignacio Moronta, 41, Nelson Reyes, 38, and Marien Solano, 36, all failed to report the death of the woman who is suspected to have died from an overdose.
Moronta, Reyes and Solano were also identified to be involved in the manufacture and or possession with intent to distribute significant amounts of illegal narcotics.
All three suspects were processed at the RISP Lincoln woods Barracks and were formally arraigned on Wednesday where they were all held without bail.
The identity of the deceased was not immediately released.