3 RI Senators to Donate Raises to Charity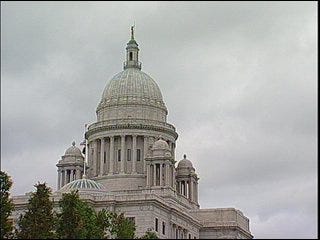 A trio of Rhode Island state senators are refusing to put their $477 salary increase in their own pockets, instead handing out the cash to local food banks. ABC6 has more from the RI General Assembly…
3 Senators say no to annual legislator pay hike
STATE HOUSE – Three members of the Rhode Island Senate announced that they will not accept the 3.4 percent salary increase for legislators that kicked in at the beginning of this month, instead donating the money to charity.
Announcing their intent not to accept the pay increase are Sen. Edward J. O'Neill (I-Dist. 17, Lincoln, North Providence, Pawucket), Sen. Michael J. Pinga (D-Dist. 9, West Warwick) and Sen. James C. Sheehan (D-Dist. 36, Narragansett, North Kingstown).
Under the state constitutional change that downsized the General Assembly in the mid-1990s, Rhode Island legislators were to be compensated at an annual rate of $10,000 beginning in 1995, with annual salary increases at the beginning of each subsequent fiscal year, tied to the Consumer Price Index for the previous year.
This year's 3.4 percent CPI raises legislators' pay from $14,018 to $14,495 (the salaries of the House Speaker and Senate President are double that amount).
The three Senators said that due to the difficult economy and the cuts made in this year's state budget, they did not believe it was appropriate for state officials to accept a pay raise. Although the amount of the annual increase is not large – about $477 – they said they do not want to be asking more in the way of sacrifices from other residents around the state without asking the same of themselves.
Because it is constitutionally required (Section 3, Article VI), the legislators acknowledged they cannot refuse the 3.4 percent increase. Instead, they said they will donate the increase to food banks that service their communities.
The 3.4 percent increase is equal to the CPI for last year calculated by the U.S. Department of Labor. Although legislative salaries have generally increased every year since 1995, last year's economic downturn resulted in a small pay cut for legislators.
Senator O'Neill is serving his first term in the Senate and is a member of the Senate Committee on Corporations and the Senate Committee on Government Oversight.
Senator Pinga is also serving his first term and is a member of the Senate Committee on Labor and the Senate Committee on Government Oversight.
Senator Sheehan is serving his fifth term. He is Vice Chairman of the Senate Committee on Health & Human Services, Secretary of the Senate Committee on Government Oversight and a member of the Senate Committee on Corporations.