UPDATE: 3 teens injured in rollover crash in Cranston;1 in critical condition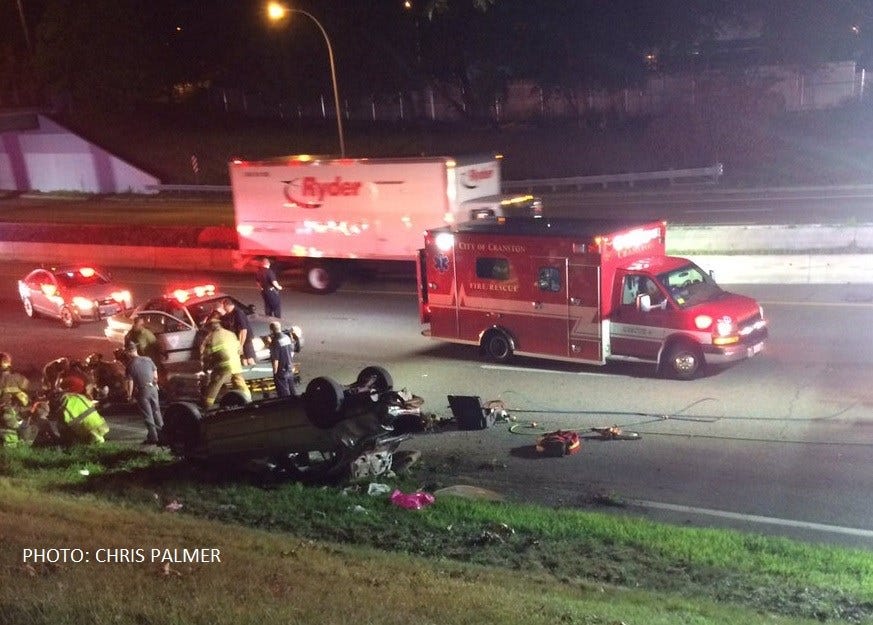 By: News Staff
news@abc6.com
A car crash on route 10, just before the Pontiac Ave overpass in the City of Cranston, left three teens severely injured early Thursday morning.
Police say 19-year-old Meghan Kennedy of Warwick was swerving in her Honda, Civic, four-door Sedan when she crossed three lanes of travel and hit the right curb and guardrail with its passenger side.
Officials say Kennedy continued to travel south, before striking the Pontiac Avenue overpass abutment, rolled over several times, and came to a halt on its roof in the right breakdown lane.
19-year-old Destiny Cotto of North Providence was in the back seat of the vehicle when she was ejected and pinned under the vehicle.
Cotto was not wearing her seat belt and is currently in critical condition, according to Rhode Island Hospital officials.
Kennedy was also not wearing her seat belt and sustained serious injuries, but were non-life threatening.
18-year-old Ian Willard of North Providence, who sat in the front seat, was wearing his seat belt, and also sustained serious injuries, but was non-life threatening.
Police say all the teens were transported to Rhode Island Hospital.
No other vehicles were involved in this crash.
The car accident continues to be under investigation by members of the Rhode Island State Police-Lincoln Woods Barracks, Rhode Island State Police Collision Reconstruction Unit, and Forensic Service Unit.
©WLNE-TV / ABC6 2016