3 victims killed in bombings identities slowly revealed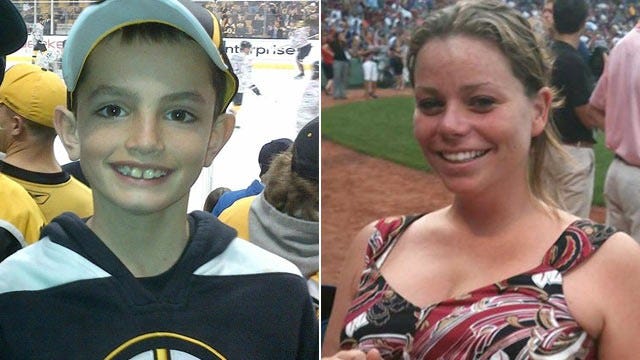 Dee DeQuattro
ddequattro@abc6.com
The tragedy at the Boston Marathon is becoming more real as the identities of the three that were killed are revealed.
It started as a beautiful day, with a cool breeze in Boston. Runners who had trained for the marathon were on their marks, ready to go while family and friends cheered them on.
Some, like the youngest victim 8-year-old Martin Richard, just gathered with family to watch the nation's oldest and most iconic marathon.
Then tragedy struck. An explosion, followed by a second explosion shook the streets of Boston and sent some people to the ground with injuries and others into a state of sheer panic.
Martin Richard of Dorchester Mass., was with his family be the finish line when the bomb exploded and he was killed. His mother and sister were also seriously injured. Richard's father and brother were uninjured.
Richard is described as a "great kid" who was "always smiling" and "full of life."
Another innocent life lost during the bombing is that of 29-year-old Krystal Campbell of Arlington Mass.
Campbell's family say they are devastated after learning of their daughters passing. The 29-year-old restaurant manager from Medford Mass., was cheering for her friends boyfriend at the finish line when the bombs went off.
Initially family believed her friend had been killed but when they were allowed to visit who was thought to be their daughter they realized it was her friend.
Campbell was at the race with her two friends. One of them identified as Karen Rand had been holding Campbell's ID and as a result was mistaken to be Campbell.
Her employer, Summer Shack described her as beloved and closed the restaurant today in her honor. They posted to Facebook:
"The Summer Shack family is devastated by the loss of our beloved Krystle. No words can describe how much she meant to all of us. She was an incredible woman, always full of energy and hard at work, but never too tired to share her love and a smile with everyone. She was an inspiration to all of us. Please keep her and her family in your thoughts and prayers. We are continuing to remain positive for Karen and ask that you keep her in your prayers as well."
The third victim is another individual who was waiting with friends at the finish line. The individual's identity has not been released but the Boston University website says the person was a graduate student.
The individual is confirmed to be a Chinese national.
A second BU student was injured by the bombing but is now in stable condition at Boston Medical Center.