3rd COVID-19 death announced and all child care licenses temporarily suspended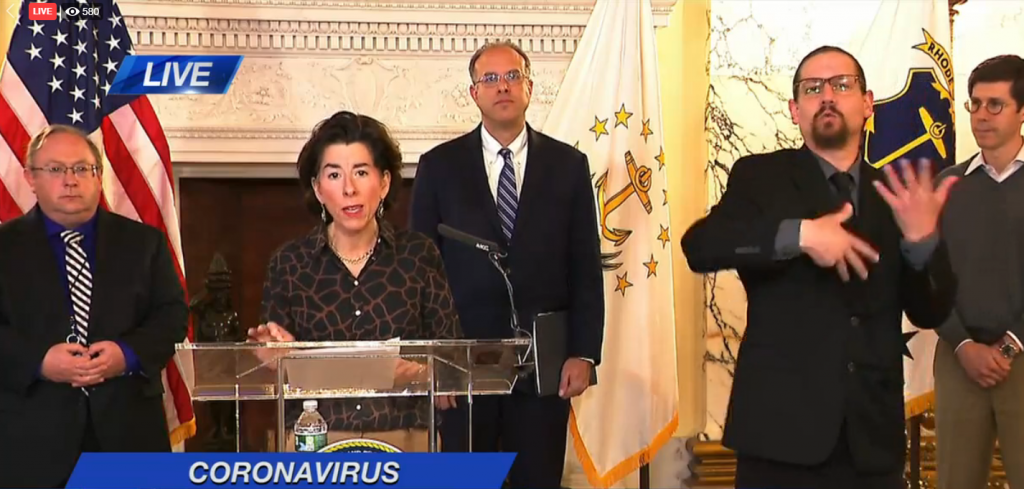 PROVIDENCE, R.I (WLNE) – Another somber start to Governor Raimondo's press briefing as she announced the 3rd COVID-19 related death in the state.
The death was followed by the announcement of 55 new positive cases, bringing the state's total to 294.
Governor Raimondo urged Rhode Islanders not to panic when the number of cases increase tomorrow, as the number of tests increase.
Raimondo also asked residents to continue social distancing, as she noted there is only an estimated 50-60% compliance with the protocol.
She praised Rhode Island residents who are maintaining safe social distances.
"You are the heroes in this war against coronavirus, and literally you are saving lives", she said.
Raimondo also announced that starting Monday, all child care licenses are suspended until April 4th.
According to Raimondo, the suspensions are only for a week because the situation needs to be evaluated further before an extended suspension period is announced.
On the topic of domestic travel, State Police Chief, Colonel James Manni said all out of state passenger vehicles will be required to stop at one of the states information centers, and stopping vehicles does not violate constitutional rights.
Governor Raimondo said she is on firm legal ground to order all out of state plates to be stopped.
She said this in response to New York Governor, Andrew Cuomo stating he would sue the state of Rhode Island if it continues to stop New York residents.
Secretary of Commerce, Stefan Pryor, who was also in attendance addressed the concern of gun and ammo stores being allowed to remain open while places like book stores are not.
According to Secretary Pryor, firearm stores in states proximate to R.I, and it is in the best interest of a first-time gun buyer to do so in the safest environment possible.
Pryor emphasized that only physical locations of "non-essential" retail are to be closed, but online ordering and pick up is encouraged.
Any business that needs assistance with digital advertising, or creating a web presence is told to call 401-521-HELP.
Governor Raimondo is holding another conference on Monday.
©WLNE-TV/ABC6 2020