5 adults and 2 minors arrested for Disorderly Conduct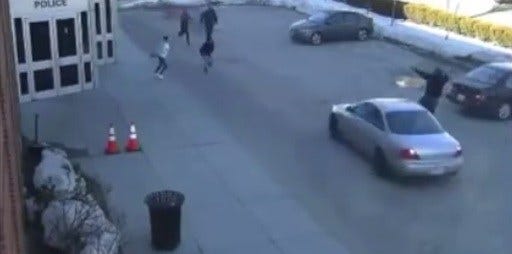 By Stephanie Vargas
CRANSTON, RI_ Police arrest five adults and two juveniles in a road rage incident.
On March 12, at 3:45 pm, The Cranston Police Department responded to a dispute that started over the sale of a motor vehicle and quickly escalated into road rage.
Terry Luongo, 18, from Providence, was assaulted and suspects fled the scene in an Acura.
At 4:45 pm Officials noticed a Nissan Maxima following an Acura into the Cranston Police Station.
The driver of the Maxima, Terry Lee Jones, 39, from Providence parked the car at the entrance of the Police station attempting to block the Acura from fleeing.
Luongo, Dontez Lamore Towns, 21 from Providence and two minors ran towards the Acura after the car had accelerated in reverse in the station's parking lot.
The driver of the Acura was identified as Jose Escalante, 22, from Cranston made it out of the parking lot and almost hit two vehicles that were also exiting.
Officials learned that some of the occupants of both vehicles were some of the same people that were involved in the assault of Farmington Avenue.
Jones, Luongo, Towns, Escalante and Jean C. Hernandez, 19, from Cranston were all charged with Disordely Conduct. Escalante was also charged with Reckless Driving.
The two juveniles were charged with Disorderly Conduct and were released to their parents to appear before the Family Court.
© WLNE-TV 2015