50 years later, Providence man compares March on Washington then, and now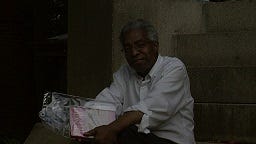 By: Alexandra Cowley
Wednesday marks 50 years since hundreds of thousands of people marched on Washington and witnessed Martin Luther King's "I have a dream speech".
One local man almost witnessed that historic moment in person, but a fear of violence stopped him from going.
Ray Rickman has a great memory, and there's one he'll never forget.
"We packed a little bag for me to go to Washington from Detroit," he explained.
Rickman was just 13 years old, when he planned to travel to Washington for the March for Jobs and Justice, but his mom changed her mind and wouldn't let him go at the last minute.
"I couldn't go because they did expect a great deal of violence, they thought people would probably be killed,"he said.
Rickman was disappointed but says the impact was still enormous, watching Dr. Martin Luther King Jr's "I have a dream speech" from his living room T. V.
"We heard the Kings speech for the very first time there and you talk about powerful," he explained.
Rickman watched in awe as hundreds of thousands took part in the march. That day was a huge step for the civil rights movement.
Still, when Rickman moved to Providence decades later, he says racism was rampant.
"When I came, there was still rogue police beating up black teenagers any time they felt like it," he recalled.
"Anybody who has a memory knows when you could barely go to Silver Lake or Federal Hill at night," he said.
Rickman says we've come a long way since then, but he says we still have a long way to go.
"Everything has changed, and for the better, enormous progress but probably half of where we should be," he said.
Rhode Island's Peoples Assembly and local Social Justice Groups will hold a march and rally Wednesday from 4 to 7 p.m. Marchers will gather on Finance Way at the top of Dr. Martin Luther King, Jr. Bridge near the plaque bearing his name and image on Francis Street.
ABC 6 will be carrying the march live beginning at 5 PM.
(C) WLNE-TV 2013