6 hospitalized after "I'm Shmacked" party at Roxy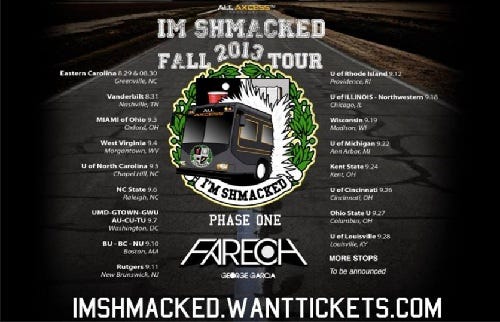 Nicole Gerber
@nicolegerber
PROVIDENCE – 6 college students were taken to the hospital after an incident at the Roxy nightclub in Providence last night.
The club was hosting a party by the group "I'm Shmacked." They travel around the country and film wild college parties for their YouTube page, usually bussing kids in from nearby campuses.
"When [rescuers] arrived on the scene… they found multiple victims laying on the ground." said Acting Fire Chief Clarence Cunha. "Some were unconscious, some were semi–conscious… it appeared to be all alcohol–induced problems."
"I came to pick up my friend from Kennedy Plaza and there were just like…a ton of kids running around really drunk and…it was crazy…I've never seen Kennedy Plaza look like that," said Caroline Burns, a URI senior.
Some glass doors were broken outside the Roxy, and one arrest has been made.
Destruction seems to follow the "I'm Shmacked" tour… on Tuesday ABC News reported that a party caused a near-riot in the street.
Police say there will likely be legal action taken against the club. There are no reports of any drugs or narcotics at the event.