6 Questions: David Tikoian named new Chief of Police in North Providence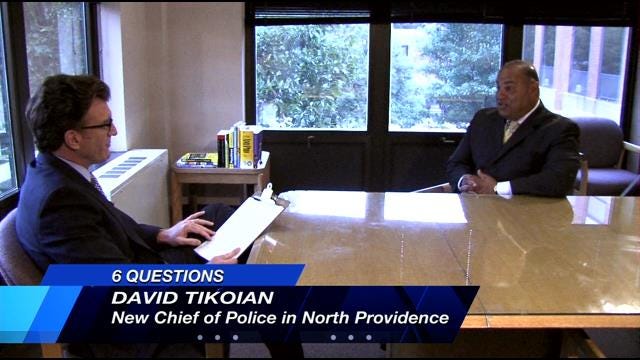 By: News Staff
Email: news@abc6.com
Twitter: @ABC6
NORTH PROVIDENCE, R.I. (WLNE) — It was just over 2 years ago David Tikoian retired from the Rhode Island State Police as a major.
With his pension in hand, Tikoian took a good job with the Providence Water Supply Board, and from the outside you would think he was all set and done with law enforcement.
John DeLuca: Help me understand how you got to this point. You worked for the Rhode Island State Police for 23 years and retire as a major. You have a nice job with the Providence Water Supply Board, why did you want to get back into law enforcement?
David Tikoian: I was not challenged and I felt as though I was not using my brain as I should and I had a lot more to offer. They were very good to me at Providence Water, but I always thought about law enforcement since the day I left. But it had to be the right fit to get back into it. From my perspective, North Providence was the right fit for me.
DeLuca: David, obviously things have not gone well for the last 3 chiefs, at least career wise, who have been there for any length of time. Pelagio, that is obvious. Martellini forced out by the city council. Whiting ends up in prison. You did not have any second thoughts: 'Do I really want to get into that situation? Do I really want to make my comeback into law enforcement into that job'?
Tikoian: Great question. Is it a challenge? Yes! Am I up for the challenge? Yes! I have no connection to anybody in that department and I think we will start off on a clean slate.
DeLuca: During your introduction, Mayor Lombardi said his goal for the department was to have the most professional and respected department in the state or one of them. What will it take to make that happen in North Providence?
Tikoian: John, I have been thinking about that a lot. In the short term we have the availability for state accreditation in Rhode Island and I think we are — North Providence is farther along than people think.
DeLuca: I noticed in several comments from the mayor, whether he was asked or he brought it up himself, about he is not going to micromanage the chief, assuming of course the elephant in the room is that he has been micromanaging or people assume that he has been micromanaging what is going on with the police department. How will your relationship with Mayor Lombardi work? Has he told you-you run that department as you see fit?
Tikoian: He has told me in no uncertain terms that you are gonna run the department. When it comes to hiring, you will be responsible for hiring. He assured me he does not do that, he will not do that and he will give me the autonomy to run that department.
DeLuca: David, what did you learn from your time at the State Police that you can apply as Chief of Police in North Providence?
Tikoian: I will tell you one thing I have really learned: It is nice to be important, but it is more important to be nice. I have felt, as you treat people with courtesy, respect, and dignity [that] you will get that in return.
DeLuca: I read a story about you in the Providence Journal a couple of years ago. You found $4,000 in cash on Smith Street. You tracked down the owner, you turned it in, he gets the money back, and you would not accept any reward. Why did you do the right thing when no one was looking?
Tikoian: That is ethics, that is the tell-tale definition of ethics. Its doing the right thing when no one is looking. I was shocked actually when people asked, 'didn't you ever think of'? I did not think for a second…
DeLuca: Not even for a second? Not even for a second?
Now to the rest of that "money return" story the cash belonged to a contractor and because Tikoian would not take any reward, that contractor wanted to pay it forward. Therefore, he donated $400 dollars to a Christmas fund for needy children.
David Tikoian will be sworn in on Tuesday as the new Chief of Police in North Providence at the North Providence High School auditorium.
ABC6 News wishes him well.
©WLNE-TV / ABC6 2017