6 Questions: John DeLuca sits down with Patrick Kennedy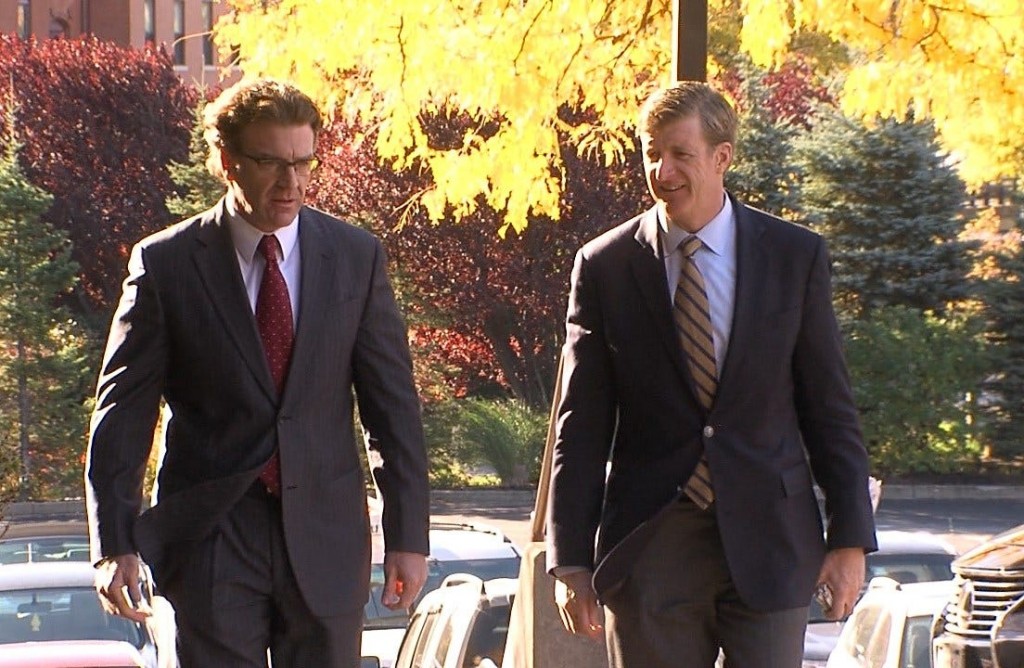 By John DeLuca
jdeluca@abc6.com
Former Rhode Island Congressman, Patrick Kennedy, is out with a new tell-all book called, "A Common Struggle." The deeply personal book reveals not only his struggles with addiction and mental illness, but also that of his mother and father, Senator Kennedy. His version of his parent's problems has not been well-received by his older brother and mother.
In this edition of "6 Questions" with John DeLuca, Kennedy talks about that rejection, political embarrassments, his daily struggle, and his new mission in life.
"A Common Struggle" details Patrick Kennedy's free fall into drug use, alcohol and mental illness, from the time he was a kid, all the way through his 16 years in Congress.
Part of telling his story means telling the dark side of his famous father, Senator Ted Kennedy, and his mother Joan, and their battles with alcohol and depression.
"Your brother doesn't seem to be too happy about it. He thinks that you threw the family under the bus, so to speak. He called it 'inaccurate, unfair, heartbreaking.' How do you react to that?" asked John.
"Mental health is still a taboo subject, and that's why my family reacted in the way they did," Kennedy replied.
"People will see this interview, read the book or get bits and pieces of it and say 'Oh, Patrick just did this because he's angry, he's angry at his dad, he's angry with his mom, he's angry at the whole Kennedy culture,'" said John.
"No, you can't read that into this book. If you've read this book, it's a loving memoir where I describe these issues in medical terms, not in judgmental terms. In fact, the whole purpose of writing this book is to move from judgment to acceptance," explained Kennedy. "That's my whole mission in life, is I am sick and tired of people being marginalized because they have a medical condition which happens to exist in their brain, and they're put aside and because they're losers or they're failures, when in fact they're suffering from a diagnosable condition," he added.
The former congressman said he's enormously proud of his time in office, and grateful to the people of Rhode Island for re-electing him over and over. Yet, despite the pride he takes in leading the way in passing the landmark Mental Health Parity and Addiction Equity Act, there's no denying there were many "oh, no" moments.
John then asked about those embarrassing moments, "Obviously the Capitol Hill accident stands out, but you made the comment on the Bush tax cut, 'I haven't worked a [expletive] day in my life,' the Afghan war speech in 2010 with the Massa coverage, the incident at LAX, the boat incident. Were you under the influence there, at those times?"
"They were all, I think, symptoms of the fact that I was not well, and fortunately I made it through these difficult times and I managed to survive. You know, a lot of people aren't able to survive," said Kennedy.
"As you look back, are those the moments you go, 'I can't believe I did that?" John inquired.
Kennedy was honest, saying, "You know, there are too many things for me to count that I would feel embarrassed about. Like if I were to look back and if I had a re-do the boating incident, the car accident, things that I would say that were intemperate. I mean if I could have those back, I'd take them back."
"You still get urges?" John asked.
"Oh, absolutely yeah. All the time," admitted Kennedy.
"So when adversity hits, whereas in the years past, your first thought would be 'Okay, well it's time to get the vodka,' now you don't think that way?" asked John.
"Now, I think that way, but I don't act on that thought," said Kennedy.
Patrick Kennedy says he's been sober since February 22nd, 2011–his father's birthday. He's not a father himself with three kids and another on the way this month.
As part of his new mission in life, the former congressman says he's banging on doors all over Washington pushing to hold insurance companies accountable about why they deny care.
© WLNE-TV 2015