6 Questions: North Providence Mayor Charles Lombardi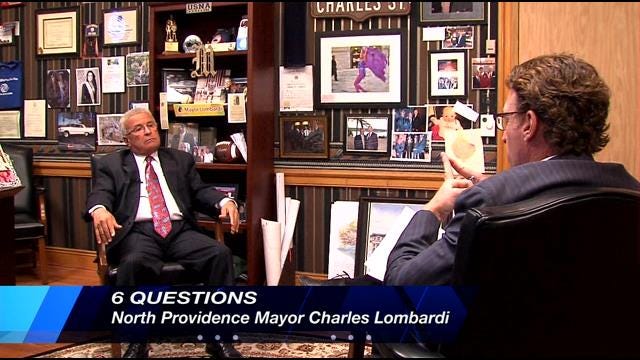 By John DeLuca
jdeluca@abc6.com
North Providence Mayor Charles Lombardi joined ABC6 Anchor John DeLuca for this edition of 6 Questions.
"I wanted to do this interview at the dry cleaning business, one of your five dry cleaning businesses," says DeLuca. "You didn't want to do that. Why not?"
"Well, I'll tell you why. That's my, life so to say but this is my job now," says Lombardi. "And I don't want anyone to think that I spend any time that I should be here at my business. I will not do that."
The mayor and the town's firefighters recently signed a new three–year contract. It wasn't that long ago the union and the mayor were at each others' throats, ridiculing him and his plans to close one of the stations in town.
Now the department has a Class One rating by the Insurance Services Office, one of only 64 in the country. How did that happen?
"I think what they needed to understand is exactly what I told them a number of times. 'Look, you forget why you're here. Your job is to run to the fire calls, not try to run the fire department. We'll take care of that," says Lombardi.
"You need to have courage in this business, John. I wasn't letting anyone discourage me from doing what I knew was the right thing to do for the taxpayers in this town."
"By having business sense and common sense, which you can't teach by the way and then if you've got some street sense, that has helped me with this job."
"All the more reasons why people would say, 'Look at his record. He's got a record he can run on. He comes with a business background. He can work with people from other parties. He's not a Democrat, he's a guy who gets things done.' That's an easy sell, Charlie!," said DeLuca.
"It is and it's nice to hear those things as to what you're saying. We get it everywhere. 'What are you doing? You need to run for state office.' I'm all set," said Lombardi.
Part of his business approach is cutting waste. He's merged the maintenance and IT departments for the town and school. The town has not bought a new maintenance vehicle in seven years.
"Last week, I'm driving down Route 4 and I see this truck for sale on the side of the road. So I stop, I looked at it, okay. Two days later, we picked it up. We bought it for $4,500 dollars. Our guys are going to use it for maybe three or four years," said Lombardi. "So why would I go spend, why would the 'taxpayers' spend $30-35,000 dollars for a new truck? I'm not going to do it."
(C) WLNE/TV 2015