NEW: Collapse may have been happened when crews tried to plumb building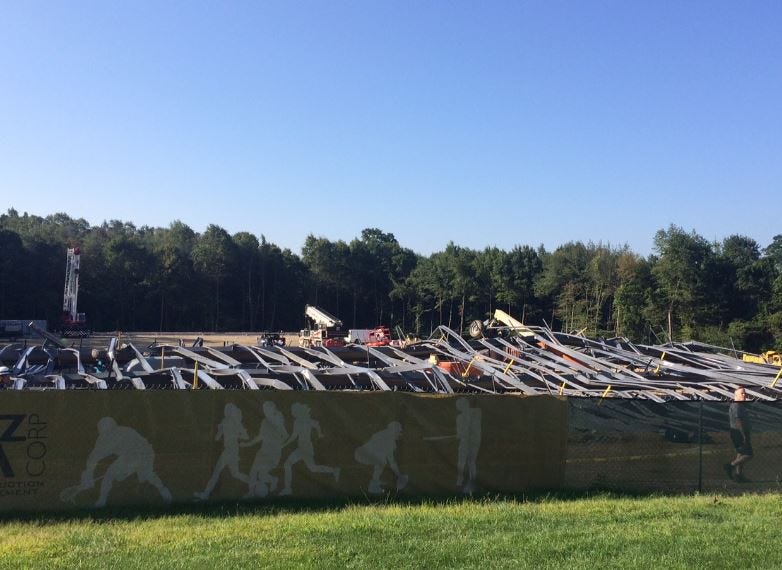 By News Staff
Reporting by Melissa Randall & Kainani Stevens
news@abc6.com
Terrifying moments Tuesday after an athletic building at Bryant University collapses and injures six construction workers.
The workers, a crew from A-Z Corp, was just starting their work day at the University when the unthinkable happened. The indoor practice facility they were building collapsed beneath them.
"They were erecting steel. Something happened at the site and the steel structure that was in place fell over. We're not sure why that happened. It's under investigation at this time," said Chief Robert Seltzer of the Smithfield Fire Department.
A police report obtained by ABC6 states that a worker told police they were trying to plumb the building when the crane operator must have pulled the steal beam too far. Police were unable to locate the crane operator.
Six people were working on site when the steel framing gave way. Several of the men were trapped under heavy beams and one had to be cut out of a harness.
"A couple of them needed extrication when we got here, minor entrapment, all of which were stable. A couple of them were back boarded and transported," said EMS Coordinator, Captain John Polak.
Rescue crews rushed the victims to Rhode Island Hospital for evaluation and treatment.
"A couple were complaining of back pain, a couple had some lower leg injuries, but nothing that seemed like it was life threatening," continued Captain Polak.
This afternoon a fence went up around the accident site. OSHA is leading the investigation, telling ABC 6 that Connecticut-based A-Z Corp does not have any major safety violations on their record. The company had no comment.
"Some of that steel is obviously heavy enough that it could have been fatal, so we are extremely lucky that no one lost their life in this incident," continued Chief Seltzer.
A spokesperson for Bryant says no students or staff were near the site, and the school is cooperating with authorities on the investigation.
Four of the injured workers have been treated and released from the hospital, and the other two remain in good condition at the hospital, expected to make a full recovery.
---
Bryant University put shovels in the ground back in May and planned on opening the indoor practice facility in early 2016.
"We are hoping to continue with this project. We will cooperate fully with the Smithfield Fire Department's investigation and once we have the results of that investigation we'll determine how to move forward with the construction plan," says Liz O'Neil, Vice President of University Relations at Bryant.
The structure was being built by Bond Brothers Contractors out of Boston, a company the University has worked with in the past. Bryant has undergone several construction projects recently, including their new Strength and Conditioning Center that opened in the beginning of August.
The building collapse today has some students concerned about their safety on campus.
"I think its scary to students if, I'm being honest. Bryant is having such quick turnaround on all these new projects. A disastrous setback like this is a little scary," said John Manheim, a Bryant University Senior.
Construction for the 78,000 square foot facility will be halted until the investigation is complete. No word yet on how much this setback will cost the University.
© WLNE-TV 2015