60 RI National Guard Members Return Tuesday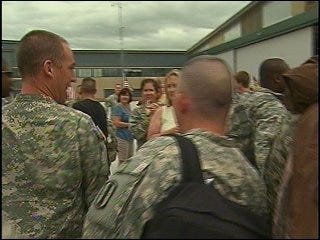 CRANSTON, R.I. (AP) – Rhode Island soldiers deployed to Kuwait since last September have come home.
The Rhode Island National Guard says 60 members of the 103rd Field Artillery Battalion arrived Tuesday afternoon at Quonset Air National Guard Base.
Lt. Col. Denis Riel says Rhode Island officials learned on Monday that the soldiers were coming home on a charter plane. He says the soldiers were expected home this week, but the return time had not been finalized.
They soldiers flew in from Fort McCoy in Wisconsin.
Riel says more than 100 members of the 103rd Field Artillery Battalion, their subordinate Bravo Battery unit and the 1207th Forward Support Company will return later week. Their arrival times are still pending.
(Copyright 2011 by The Associated Press. All Rights Reserved.)