70-mile walk raises money, awareness of veteran suicide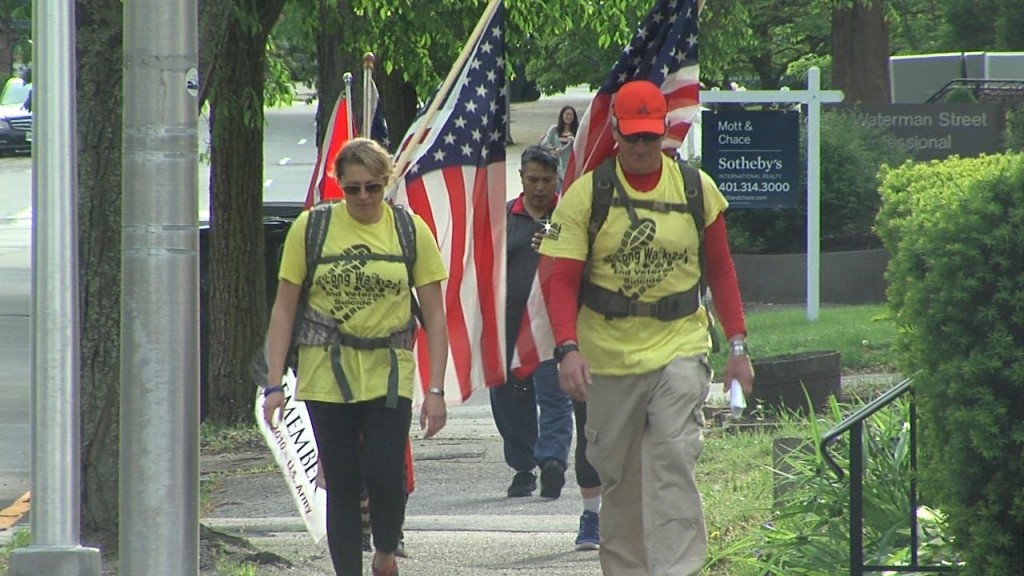 By John Krinjak
Email: jkrinjak@abc6.com
Twitter: @johnkrinjakABC6
PROVIDENCE, R.I. (WLNE) — Steve Lewis, a high school teacher and coach from Connecticut, is not a veteran. But many of his former students are–and he's seen them return from war with hidden wounds like depression and PTSD, conditions which sometimes lead to suicide.
So he founded the New England Walk for 22, which ended Monday night in Providence, to bring light to the fact that the wounds of war often go far beyond the battlefield.
"T Here are upwards of 22 veterans a day committing suicide which is a very bad situation," said Lewis. "So I decided to roll up my sleeves and do something about it."
This is the second Memorial Day weekend that Steve Lewis has made the three-day, 70-mile trek from Manchester Connecticut to Providence, stopping along the way to speak to folks about the crisis of veteran suicide.
"By walking and being out in public and talking about it to passersby and people who are driving this weekend//it's a good way to//put the mission of solving veteran suicide out in the forefront," said Lewis.
Lewis' walk ended at McBride's Irish Pub in Providence, where families of veterans who have committed suicide were there to greet him.
"I became a gold star mom in 2010 when my son took his own life," said Beverly Franklin of Middletown, who actually joined Lewis for part of the journey.
"I hope Michael is proud of his mom, because if I had my choice I'd be home in bed covering my head. But that's not going to solve the problem, and I think Michael would want me to help his fellow brothers and sisters in the military," said Franklin.
Proceeds benefit Comfort Farms, an alternative therapy program for vets founded by former Army ranger Jon Jackson, whose comrade Kyle Comfort was killed in combat in Afghanistan.
"My whole thing is to try and help vets, derail them from thoughts of suicide, homelessness, displacement, bring families together," said Jackson. "I decided to create an environment where vets can work back toward those things using agriculture."
For Gold Star mother Sue Peney, who flew up from Georgia for the walk, helping veterans avoid suicide is a source of healing for her, just as much as it is for them.
"The veterans are also helping me or any families of the fallen, be able to cope every day, just like they're being able to cope every day," said Peney.
If you'd like to learn more about Comfort Farms, or about Jackson's nonprofit called Stag Vets, click here.
© WLNE-TV / ABC6 2018