81% of Residents Approve of Governor Raimondo's COVID-19 Response
This is compared to 34% approval for President Trump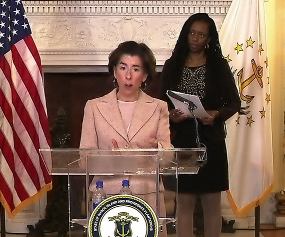 PROVIDENCE, R.I (WLNE) –  A new poll shows that a majority of Governor Raimondo's constituents approve of her response to the COVID-19 spread.
The Hassenfeld Institute for Public Leadership at Bryant University conducted this survey from April 15 through April 18.
The poll surveyed public attitude about the job approval voters give elected officials in handling the coronavirus crisis.
Gary Sasse, the Institute's director, said "The Spring of 2020 marks the 10th anniversary of the Institute. Unfortunately, it coincided with the global pandemic. In light of these circumstances, as a public service, the Institute has decided that this was the right time to examine the public's perception of leadership during the crisis."
The poll shows that 81% of Rhode Islanders think Governor Raimondo is doing an excellent or good job in dealing with the crisis, compared to the 34% for President Trump.
4% of state resident's described her performance as "poor".
60% of Rhode Islanders said state their state officials are doing a good job, compared to 32% elected national leaders.
As a result of the Coronavirus, Rhode Islanders said they are more likely to engage in voting (82%), and 61% were more likely to express their views to elected officials, according to the poll results.
Further results of the conducted survey can be found here.
©WLNE-TV/ABC6 2020