A beautiful day tomorrow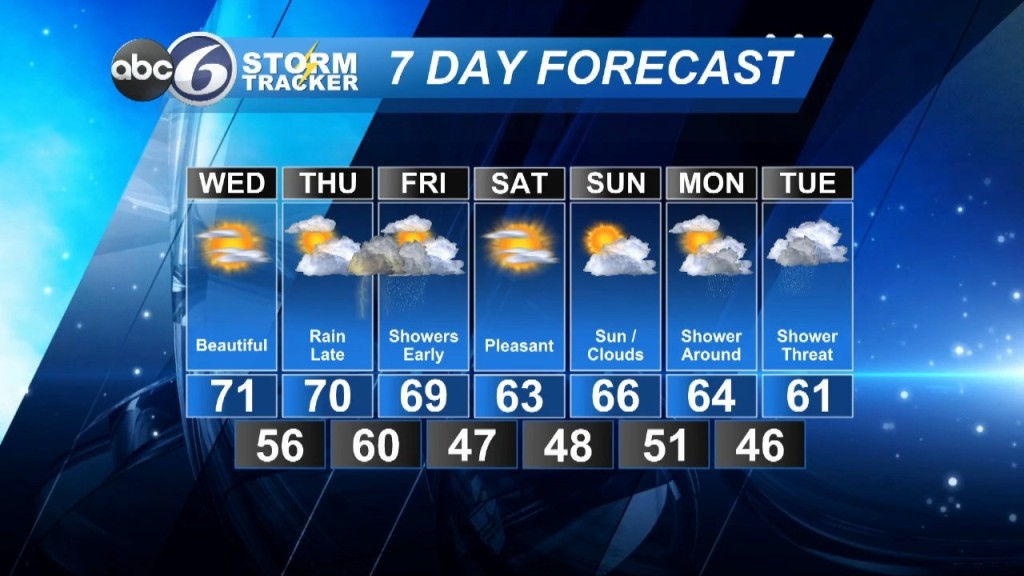 A nice pleasant night is in store for tonight under a moonlit sky and lows only dropping to the upper40s. Toward daybreak there will be some patchy fog forming but it will evaporate shortly after sunrise.  Tomorrow looks even better than today. High pressure remains in control with sunshine and even warmer temperatures expected. Highs will top out in the low 70s range inland, upper 60s at the coast. Overnight clouds will slowly begin to roll in with lows in the mid 50s.
More clouds expected on Thursday with temperatures still hovering around 70°. The breeze is expected to pick up as the day progresses ahead of an approaching cold front. By later in the afternoon rain will begin to move into the area. Expect rain and perhaps a few strong thunderstorms along with gusty winds to move through overnight with showers lingering into at least the first half of Friday. Temperatures on Friday will still be in the upper 60s range. We clear out Friday n
ight with lows back down into the 40s by Saturday morning.
Saturday looks nice and sunny with highs more seasonable, expect mid 60s. Partly clear overnight with lows in the 40s. Partly sunny Sunday with highs staying in the mid 60s.
Bill Gile,
ABC6 Meteorologist