A break in the storms this weekend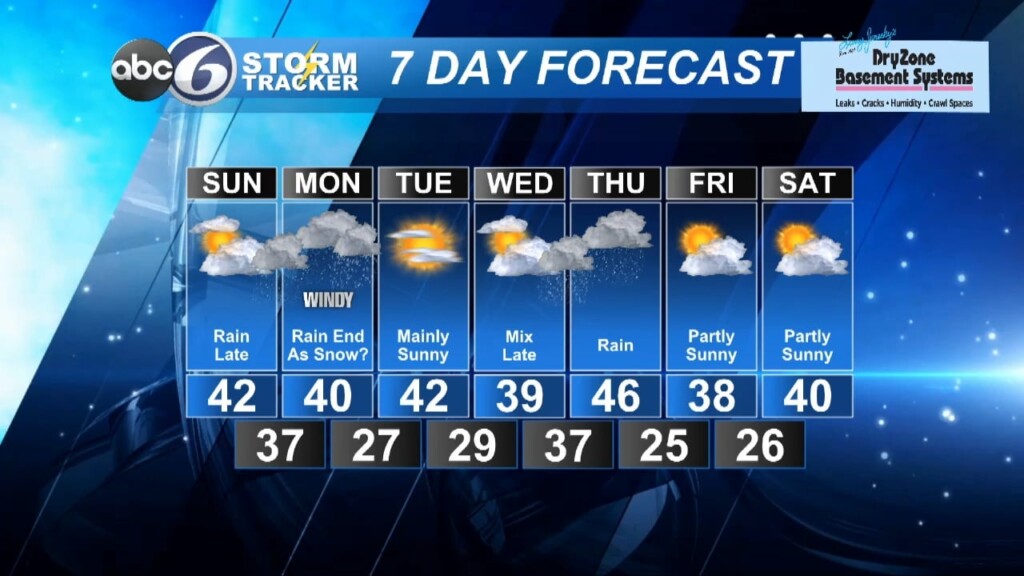 Clouds hang tough through most of the night, but there will be some breaks developing by dawn with temperatures falling into the upper 20s as High pressure begins working into the region. Sunday will start out with some sun early but the sky becomes overcast once again for the afternoon as yet another storm approaches.
A developing coastal storm will bring rain Sunday evening through Monday that will be locally heavy into early Monday morning. This time, the rain will be wind-driven with gusts of 30-35 mph. We'll also need to keep an eye on the tidal situation for Monday morning as well for any possible splashover. As the storm center moves off into the Gulf of Maine Monday afternoon we could be seeing the rain change to some wet snow, but I just don't see much having the chance to accumulate because the air temperatures will still be in the mid-upper 30s. If anything were to stick into the evening it would be more a grassy coating to an inch. However, keep in mind that any wet roads Monday night will become icy as temperatures do fall back into the 20s. The sun returns for Tuesday and part of Wednesday before the next storms arrive late Wednesday starting as either rain or rain/snow mix that becomes all rain overnight and continues into Thursday.
TONIGHT: mainly cloudy. Lows in the upper 20s.
SUNDAY: some morning sun then cloudy for the afternoon. Highs 41-44. Winds S 5-15MPH.
SUNDAY NIGHT: rain, heavy at times. Becoming windy with lows 37-40.
MONDAY: morning rain tapering to showers. The rain may mix with or change to a period of wet snow for the afternoon. Highs in the upper 30s to near 40°. Winds gusting 30-35MPH from the Northeast in the morning backing into the Northwest for the afternoon.
TUESDAY: sunshine with a few clouds. Highs in the low 40s.
WEDNESDAY: clouding up by midday with rain or rain/snow mix developing late PM. Highs in the upper 30s.
ABC6 Meteorologist Bill Gile