A Grinch is stealing Xmas decorations in Wrentham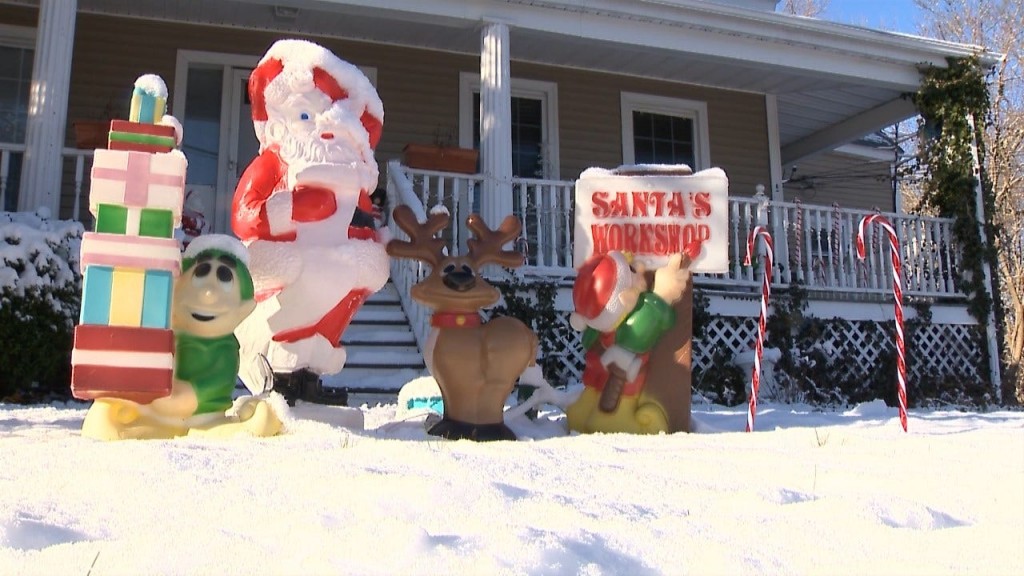 By: Ellie Romano
Email: ERomano@ABC6.com
Twitter: @ERomanoABC6
WRENTHAM, Mass. (WLNE) – There is a Grinch on the loose in Wrentham. Someone is going around stealing Christmas decorations from people's lawns in the middle of the night.
Police report homes on Dedham Street and other locations have been hit.
Decorations like lawn projectors, lights, and a blow-up Santa have been stolen.
"These are expensive decorations and we'd love nothing more than to nab the thief whose heart is an empty hole," the Wrentham Police Department wrote on Facebook.
One family on Dedham Street was devastated to wake up and find their decorations gone.
"We were in shock," said Suzanne Bodensiek. "We thought they blew away because the wind was very rough. But we knew something like that couldn't be blown away. We looked around and you could tell they were ripped out of the ground."
She said the thief stole decorations her grandson had bought after saving up his birthday money. Two light-up reindeer and four spiral Christmas trees were stolen.
"He was heartbroken," said Bodensiek. "They weren't worth a whole lot. But still, it was the idea– it really made him very disappointed."
To try and prevent this from happening again, police advise residents to be creative when protecting decorations.
"Reposition motion detector lights to activate if someone is near your decorations. Add a wire/cable from your decoration secured to a nearby tree or the house. Attach noisy objects (bells, chimes, etc.) to the electrical cord/cable to create a ruckus when moved," the department wrote on Facebook.
Police also suggest you point surveillance cameras at your decorations and position the camera to capture the license plate of a vehicle.
"We're going to get you, Mr. Grinch. We are going to get you," said Chief Bill McGrath.
"If anyone can point us in the direction of this seasick crocodile, please call the WPD at 508-384-2121. We truly want to stop this nasty, wasty skunk!" the department wrote on Facebook.
© WLNE-TV / ABC6 2019