A holiday tradition 75 years strong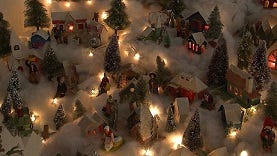 By: Alexandra Cowley
Keeping the Christmas tradition alive has become the mission of one North Attleboro woman. Each year Jane Shepard decorates every inch of her home with Christmas figures. It's a tradition her father began 75 years ago. The center piece, a snowy village, with pieces collected from across the world.
Shepard says, "It means a great deal to me because my father put a lot of love into it. He always loved Christmas, and that was his favorite time of the year. After he died it was like shall we put it up? And yes. And it's been put up, he's been gone for 10 years and 10 years later it is still up and if he was here today he would be so proud to see it."
Shepard says there are more than 500 Christmas figures in her house. It takes her a full week to decorate. The display will stay up until after the New Year.