A Mild Week Ahead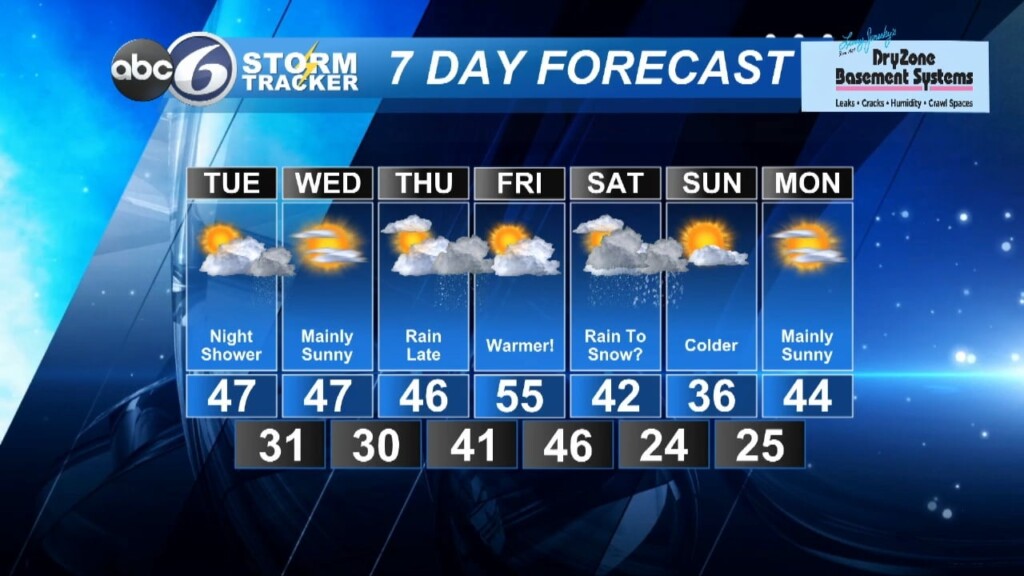 From ABC6 Meteorologist Bill Gile
bgile@abc6.com
The gusty winds from today will gradually ease overnight while evening clouds clear away. High pressure builds in from the west tomorrow to return us to sunshine, however high temperatures will be colder (actually back to normal levels) than today.
A weak cold front will roll through Tuesday evening bringing some scattered light mixed/rain showers.
Sunshine returns for Wednesday before the next round of rain moves in late Thursday afternoon/evening. Some very mild temperatures look to move in Friday and if we get enough sunshine there is the potential to reach a record. The current record for that date is 58° set in 1909.
Then, as we head into the weekend long range models are showing rain developing Saturday that may end as some wet snow Saturday night/early Sunday. The details as to how this will play out are still evolving but right now it it looks like there will be little, if any potential accumulations, Stay tuned throughout the next couple of days as this comes into better focus.
TONIGHT: evening clouds clearing away and seasonally cold. Lows near 25. North winds easing at 8-18 MPH.
TUESDAY: A.M. sunshine with developing P.M. clouds and evening showers. Highs near 40.
WEDNESDAY: Damp start. Maybe a departing light shower. Becoming sunny, milder with highs in the upper 40s!
THURSDAY: Cloudy with showers by late afternoon or evening. Highs near 50.
FRIDAY: More clouds than sun and high near 55!