A Reunion To Remember – Airmen and Women Return Home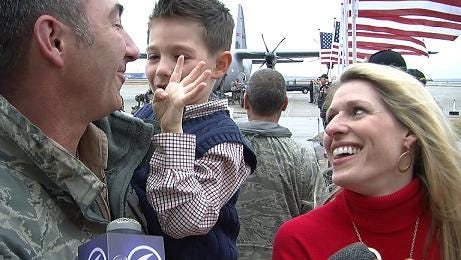 After three months overseas, more than two dozen Rhode Island members of the Air National Guard are getting their holiday wish, spending Thanksgiving with their families. It was a reunion that will bring you to tears.
Members of the 143rd Airlift Wing were responsible for bringing supplies to bases throughout Afghanistan, a dangerous mission, but today they all made a safe and happy return to their loved ones.
Jennifer Vincequere and her two kids flew in from Texas for the return of their hero.
"Elation, elation, blessed we feel truly blessed by god that he's safe he's home and we're going to be a family again, were just excited," said Vincequere.
Family and friends of the 26 airmen and women flying home from Afghanistan gathered with signs and balloons, anxious for the plane to land and to be reunited after three long months.
Major Marc Vincequere was the first one off, "I've waited 90 days to come see these three individuals it is so great to be home."
In the crowd of hugs and smiles was newly engaged couple Sage Driscoll and Joe Maker. Maker proposed to Driscoll just before he was deployed.
"We were flying partners last year and we fell in love and now were married," says Maker.
Driscoll says their time apart was difficult but they spoke when they could via skype and she kept herself busy with wedding planning. A coping tactic she shares with another newly engaged couple, Chris Williams and his Fiance Tara Campanelli.
"I've been planning the whole time it's already almost planned and it's not until the summer."
It was a reunion to remember, just in time for the holidays. There were 130 members of the 143rd airlift wing in Afghanistan who are coming home in six shifts. The first shift was on November 20th, and the last will be on November 28th.