A-Rod Finally Launches Number 600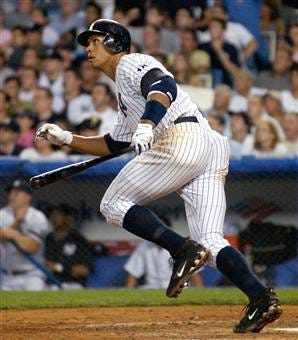 NEW YORK (AP) – After all his struggles to hit his 600th homerun, Alex Rodriguez reached the milestone with style.
A-Rod became the youngest player to attain the mighty mark, driving a pitch into Yankee Stadium's Monument Park in center field, exactly three years to the day after his 500th homer.
His two-run, first-inning drive off Toronto's Shaun Marcum put New York ahead, and the Yankees coasted to a 5-1 victory over the Toronto Blue Jays on a sweltering Wednesday afternoon to end a three-game losing streak.
A-Rod reached the milestone after a 12-game drought, connecting with a 2-0 pitch over the middle of the plate for his 17th home run of the season. Because Rodriguez homered into Monument Park, a stadium worker could retrieve the ball for him.
(Copyright 2010 by The Associated Press. All Rights Reserved.)