A-Rod hit by pitch in 1st at-bat vs Red Sox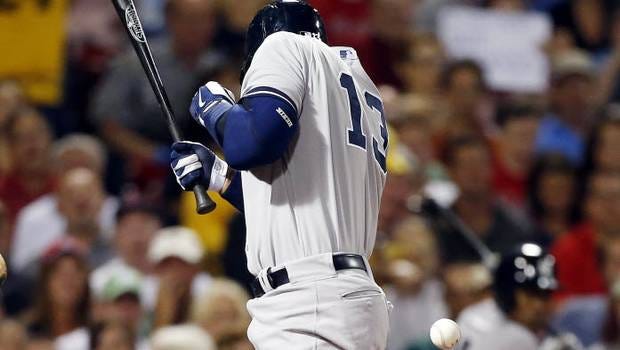 BOSTON (AP) _ Alex Rodriguez has been hit by a pitch in his first at-bat, prompting the New York Yankees and Boston Red Sox to clear the benches and bullpens at Fenway Park.
Yankees manager Joe Girardi ran onto the field, threw his cap to the ground and was ejected Sunday night. He was tossed during a heated argument after plate umpire Brian O'Nora warned both teams against further trouble.
Boston pitcher Ryan Dempster hit Rodriguez in the second inning with a 3-0 pitch. Dempster threw his first pitch of the inning behind the legs of Rodriguez, missed inside with the next two pitches and then threw a fastball that glanced off A-Rod's elbow pad and deflected into his back.
Rodriguez was recently suspended 211 games by Major League Baseball in a drug case. He is appealing and allowed to play until there is a decision.