Johnston adds 11 new firefighters on the heels of Central Coventry debacle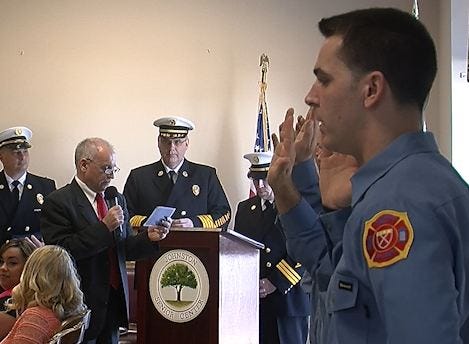 By Chris Sheppard
Video report by John Guice, ABC6 Reporter
JOHNSTON, R.I. – In a close-knit ceremony Saturday morning, members of Johnston's firefighter community came together to celebrate the addition of 11 probationary firefighters to their ranks.
One by one, the eleven men filed to the front of the room to have their new badges pinned on by family members or loved ones. After many weeks of grueling training, each man was met with smiles and elation from the crowd as the conclusion of their hard work culminated in earning the badge.
The birth of a career for these 11 trainees comes on the heels of a disaster in a town next door. Just one day before this ceremony took place, three out of the five Central Coventry fire stations were shut down after a decision was made to liquidate the largest fire district in Rhode Island's largest town.
"Obviously, losing a fire department is going to leave the public more vulnerable to fires and emergency medical situations," said Coventry resident Ryan Wilkins. He is unhappy about the situation and worries for Coventry's citizens.
In Johnston, the situation is quite different. Fire Chief Timothy McLaughlin says his department has a close relationship with the town. "In Johnston fortunately, we have a mayor who supports the fire service, and we'll be able to survive," McLaughlin said. Even though he is grateful that the Johnston fire department can add firefighters instead of having to subtract them, his gratitude was tinged with anxiety over what happened in neighboring Coventry.
"I think what happened in Central Coventry really shakes the fire service in Rhode Island. I don't think anyone has ever seen anything like that," McLaughlin said. "In my 32 years in this business, that is the first time I have seen a fire department completely go out of business. I think it sends a message, and it's not a very good message. This is clearly the talk of the state right now in the fire service."
Johnston's 11 newly-minted probationary firefighters will hit the streets Monday. Johnston may become a safer place with more firefighters to respond to calls, but the situation in Coventry remains unpredictable and hits close to home for McLaughlin and his staff.
© 2013 ABC6/WLNE-TV. All Rights Reserved.