A Warming Trend Into The Weekend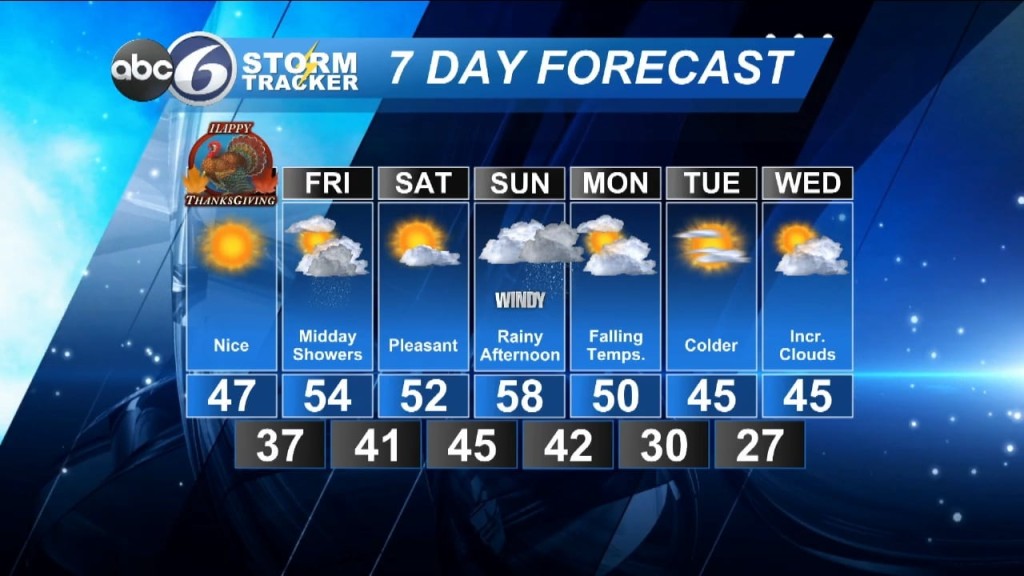 High pressure will keep us clear tonight and with nearly calm winds we will chill out quite a bit , dropping between 26-32°.
Thanksgiving day will start off on the chilly side, but it will be bright and sunny. So, if you are heading to any high schools football games or taking part in any turkey trots make sure to dress warm enough. The wind direction will begin to turn southwesterly during the afternoon and with plenty of sunshine continuing temperatures will be rising into the mid and upper 40s. The roads will be dry all day and throughout the evening as you head to and from grandma's house.
A cold front on Friday will bring clouds and rain showers that now look to move in a bit faster than anticipated earlier, meaning late morning but only lasting until about 2 or 3pm. These will be fairly light showers and improvement moves in for Friday night. It will be milder again as we rebound to the mid-50s. The weekend starts dry but ends wet. Highs Saturday will be in the low 50s and climbing to the mid and upper 50s Sunday. At this point, the rain coming in for Sunday looks to hold off until the afternoon hours. Once that is gone it will cool back a little bit into early next week.
ABC6 Meteorologist Bill Gile