A Windy Week Ahead…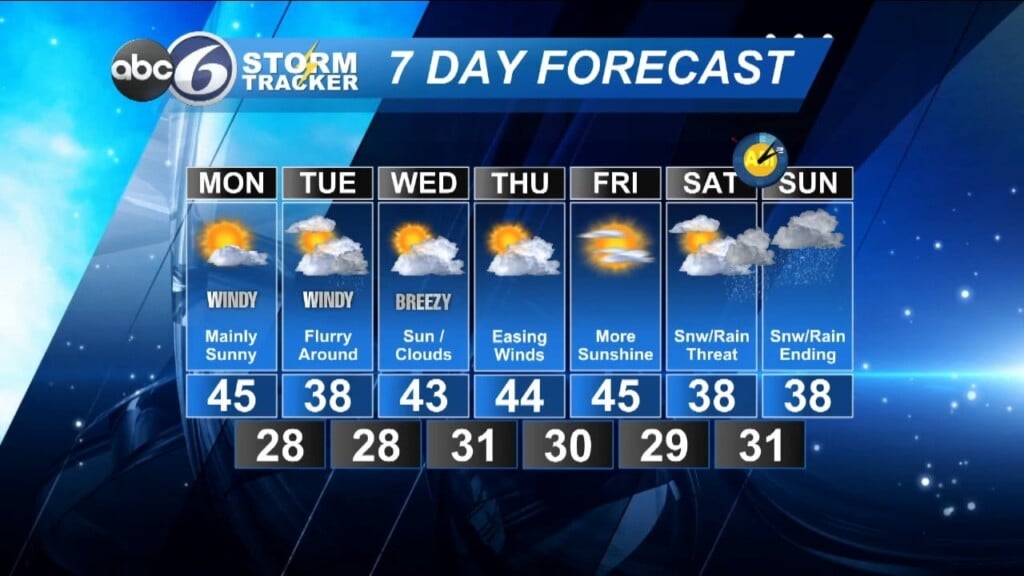 From ABC6 Meteorologist Bill Gile,
bgile@abc6.com
As the sky clears overnight we'll see low temperatures drop to seasonable level, but the wind will stay up all night so it will feel colder than it is.
Most of the week will feature a good deal of clouds and the winds will be highly notable through midweek as High pressure from the Great Lakes presses up against Low Pressure drifting south of New Foundland. Neither of these weather features will be going anywhere fast through Wednesday.
However, that will start to change as we head toward next weekend as another storm system will work into the Ohio Valley and redevelop on the coast just south of New England. Much like the last several storms that tracked here it looks like snow will develop late Saturday and most likely mix with or change to rain in southernmost New England. Of course, its way too early to be certain of the timing of snow and rain and a lot more details will come throughout the week. Also this upcoming weekend we set the clocks ahead one hour as Daylight Saving Time arrives!
Tune in to ABC6 News for my latest forecast.
TONIGHT: mainly clear and breezy. Lows in the lower 30s.
MONDAY: windy, sunshine with a few clouds. Highs 44-48. NW winds at 12-25MPH
MONDAY NIGHT: becoming mainly cloudy, still breezy. Lows in the upper 20s.
TUESDAY: a good deal of clouds, windy. Highs in the upper 30s.
WEDNESDAY: partial sunshine, breezy. Highs in the mid 40s.
THURSDAY: partly sunny, calmer breezes. Highs mid 40s.